Print This Recipe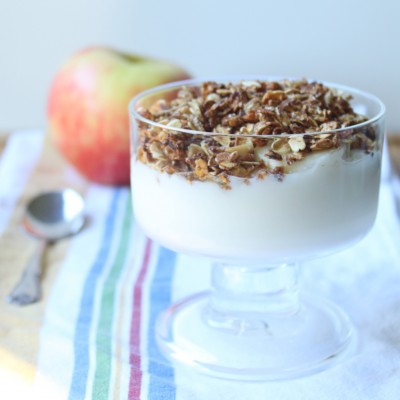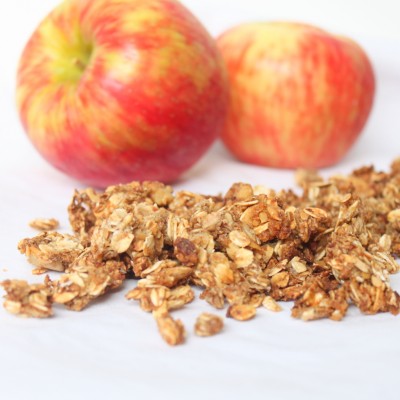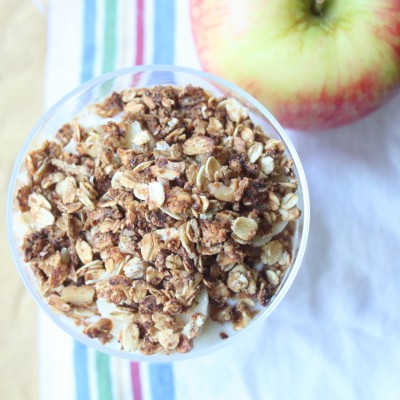 After reading many places about substituting applesauce for oil in baked goods I finally tried it with my granola.  I have seen applesauce listed in granola ingredients often so I thought that it was worth a try.  I used applesauce in place of all of the oil but you could do half and half or any other ratio.  I baked the oil-less granola at a lower temperature for a longer time to ensure that it didn't burn.  The granola baked in larger clumps due to the consistency of the applesauce but as such it made the perfect snack by the handful, all by itself, too.  I will definitely be using applesauce in my granola again.  For another autumn granola, try my pumpkin pie-spiced granola made with pumpkin puree.

Author:
Itsy Bitsy Foodies
Prep time:
Cook time:
Total time:
Top your yogurt with this nutrient-packed granola baked with applesauce instead of oil for a healthy and filling meal or snack.
Ingredients
4 cups old-fashioned oats
1 cup All-bran
1 cup wheat germ
¼ cup flax seed
¾ cup chopped walnuts
¼ cup brown sugar
¼ cup honey
1 cup applesauce
½ tsp cinnamon
Instructions
Toss all of the ingredients together.
Spread them onto an ungreased baking sheet.
Bake the granola at 300 degrees for 30 minutes or until it is golden brown, stirring it every five minutes or so to ensure that it doesn't stick to the pan and/or burn.
Stir it again when you remove it from the oven and then let it cool on the pan.
Store it in a sealed container.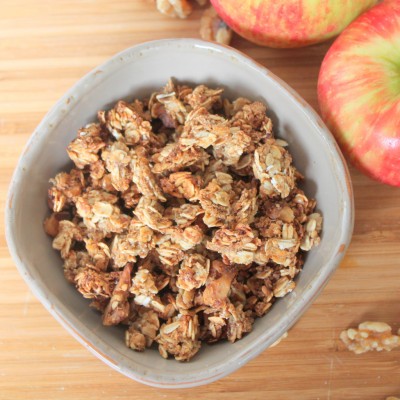 Tags: applesauce, flax seed, granola, homemade granola, low-fat granola, oatmeal, walnuts, wheat germ