Mon, May 14, 2012
Around the World, Breakfast, Dishfolio, Honest Cooking, Itsy Bitsy Foodies Sightings, North America, Pancakes, Waffles & More, Photograzing, Search by Course, United States

Print This Recipe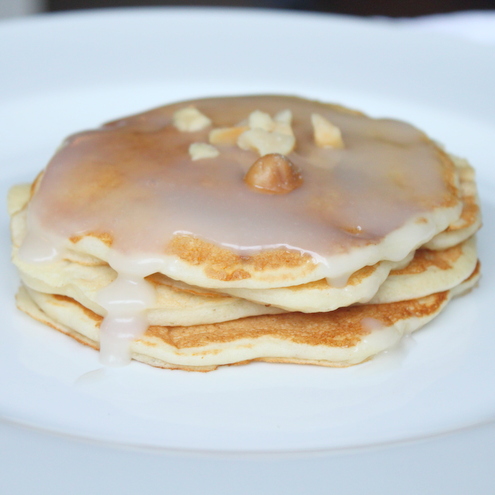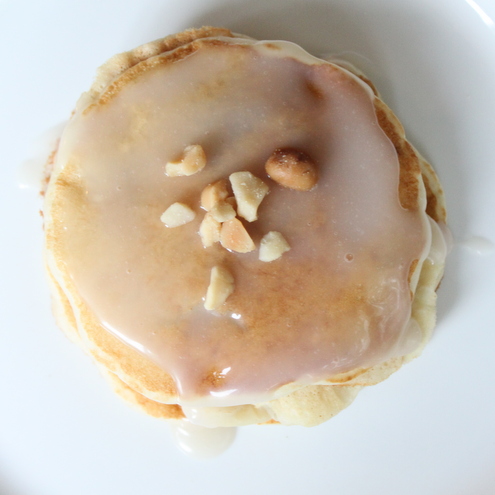 These banana macadamia nut pancakes are yummy plain or with conventional pancake dressings but when drizzled with coconut syrup they will leave you dreaming of the land of aloha.  Just one bite will transport you to the Hawaiian islands.  The addition of mashed banana to the buttermilk pancakes makes them exceptionally light and fluffy.  You can either add chopped macadamia nuts to the pancake batter or for a lighter version, simply sprinkle some on top as a garnish.

Banana Macadamia Nut Pancakes with Coconut Syrup
Author:
Itsy Bitsy Foodies
Prep time:
Cook time:
Total time:
One bite of these pancakes will leave you dreaming of the land of aloha.
Ingredients
Coconut Syrup
1 can of coconut milk
½ cup sugar
Dash of vanilla extract
Banana Macadamia Nut Buttermilk Pancakes
1 cup flour
1 Tbsp sugar
1 tsp baking powder
½ tsp baking soda
¼ tsp salt
1 egg
1 cup buttermilk
2 Tbsp oil
1 banana, mashed
¼ cup chopped macadamia nuts
Instructions
Coconut Syrup
Mix the ingredients in a small saucepan.
Cook the mixture over medium heat, stirring it constantly, until it comes to a boil.
Reduce the heat to medium and let it simmer for 15-20 minutes until it thickens into a syrup, being careful not to let it cook at a full boil or the consistency of your syrup will change, becoming grainy and gummy.
Use it immediately or let it cool and then store it in a sealed container in the refrigerator.
Banana Macadamia Nut Pancakes
Mix the dry ingredients.
Stir in the wet ingredients.
Heat a griddle to medium heat and cook the pancakes until they are golden brown on each side.
Serve the pancakes with coconut syrup and chopped macadamia nuts.
Tags: banana pancakes, buttermilk pancakes, coconut syrup, Hawaii, hawaiian pancakes, homemade coconut syrup, pancakes, tropical pancakes