Print This Recipe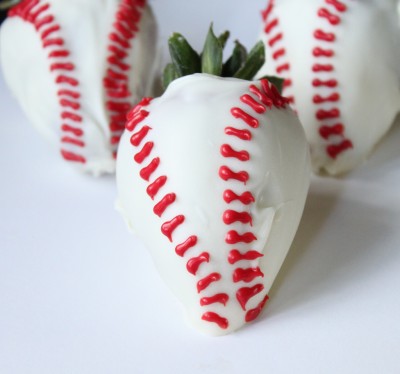 I first saw baseball strawberries on Shari's Berries and have since seen several different versions of them.  I thought it was finally time to make them now that my toddler loves playing baseball and singing "Take Me Out to the Ballgame!"  Needless to say they were a hit with my family.  They are easy to make and perfect for parties and baseball game treats.  Your kids will have fun decorating them, too!

Chocolate-Covered Baseball Strawberries
Author:
Itsy Bitsy Foodies
Take me out to the ballgame with these fun chocolate-covered baseball strawberries.
Ingredients
12 Strawberries
1 bag Wilton's white candy melts
1 bag Wilton's red candy melts
Instructions
Rinse the strawberries and let them dry completely.
Melt the white candy melts in a shallow bowl.
Working with one strawberry at a time, hold the green stem of the berry and gently swirl the berry in the melted white chocolate.
Spoon melted chocolate over the top if need be so that the strawberry is completely covered in white.
Let the excess chocolate drip off of the strawberry tip.
Place the covered strawberries on waxed paper to dry.
Melt the red candy melts in a bowl.
Spoon the melted red chocolate into a Ziploc bag or a frosting piping bag.
Snip off one of the Ziploc bag corners or use a very small piping tip with the frosting bags.
Make the red stitching marks on the strawberry baseballs, working quickly so that the red chocolate doesn't harden in the bag.
Let the chocolate on the strawberries harden.
Serve the strawberries immediately or store them in a sealed container in the refrigerator.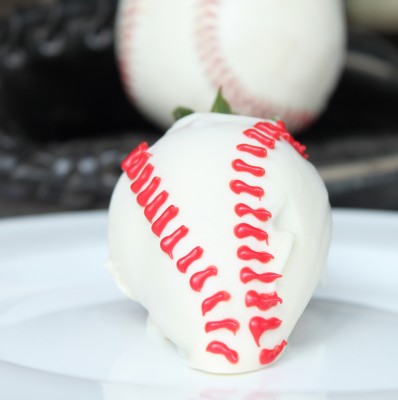 Tags: baseball, baseballs, chocolate, chocolate strawberries, chocolate-covered, strawberries, white chocolate