Sun, Mar 27, 2011
Appetizers, Around the World, Breads, Europe, France, North America, Pastries, Sandwiches, Search by Course, Snacks, United States

Print This Recipe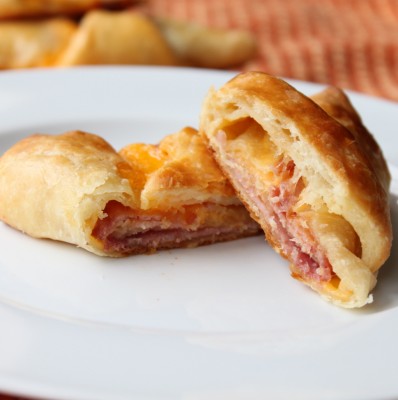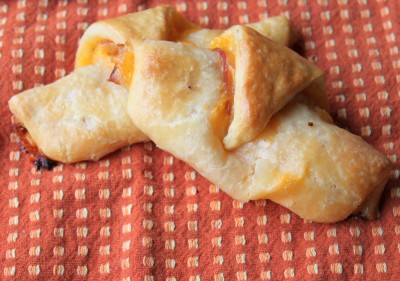 I recently made croissants for the first time, leaving some plain to be served with butter and jam and filling the rest with a variety of sweet and savory ingredients.  In this savory version, the ham and cheese are baked inside the croissant to make a warm, panini-style sandwich that is great for a main meal or as the side to a soup or salad.  If you're looking on the sweet side, my favorites are almond crescents and Nutella croissants.   

Author:
Itsy Bitsy Foodies
Prep time:
Cook time:
Total time:
In this savory croissant, the ham and cheese are baked inside the buttery pastry dough to make a warm, panini-style sandwich that is great for a main meal or as the side to a soup or salad.
Ingredients
2¼ tsp yeast (1 package)
1 cup warm water
¾ cup evaporated milk
1½ tsp salt
⅓ cup sugar
1 egg
5 cups flour
¼ cup butter, melted and cooled
1 cup firm butter (right out of the refrigerator)
Thin slices of deli ham
Cheese slices
1 egg
1 Tbsp water
Instructions
Dissolve the yeast in the warm water.
Add the evaporated milk, salt, sugar and 1 egg and mix until combined.
Add 1 cup flour and beat to form a smooth batter.
Blend in the cooled, melted butter and set the batter aside.
Pour 4 cups of flour into a separate bowl.
Cut 1 cup of firm butter into small cubes and cut it into the flour, mixing them with a pastry blender or a fork until the flour and butter combine to make pieces the size of beans.
Pour the yeast batter over the top of the flour and butter and mix the two together just until the flour is moist.
Cover the bowl with plastic wrap and refrigerate the dough for four hours or up to four days.
Then, knead the dough on a lightly-floured surface for 6 turns.
Divide the dough into four parts.
While you shape one part, return the rest of the dough in the covered bowl to the refrigerator.
Working with one-fourth of the dough at a time, roll the dough into a circle with a 17-inch diameter.
Cut the circle into eight pie-shaped wedges.
Place ham slices on the wedges and then top the ham with cheese slices.
Then, starting with the outside edge, loosely roll each wedge toward the inner point. Shape the rolls into a crescent and place them point-down on an ungreased cookie sheet, leaving 1½ inches of space between each croissant.
Lightly cover the croissants with a towel and let them rise at room temperature for two hours or until the dough has doubled.
Mix 1 egg and 1 Tbsp water in a small bowl.
When the croissants have finished rising, brush the top of each croissant with the egg-water mixture.
Bake them at 325 degrees for 20-25 minutes or until they are light golden in color.
Tags: butter, cheese, croissants, egg, ham, ham & cheese sandwich, sandwiches, yeast