Sun, Jan 16, 2011
Appetizers, Around the World, Asia, Cooking Projects, Disguising Healthy Foods, Fun Family Activities, Japan, Main Dishes, Seafood, Search by Course

Print This Recipe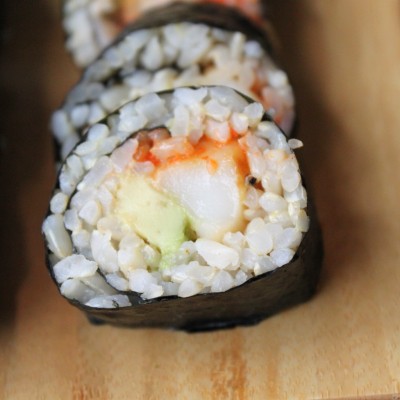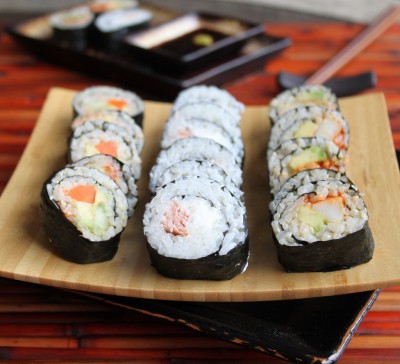 Once I realized how easy it is to make sushi at home, I wanted to try making one of my favorite sushi rolls: Spicy Scallops.  To make it appropriate for my toddler I decided to cook the scallops.  If you or your kids don't like spicy foods, you can omit the sriracha sauce.  I used brown rice for extra nutrients but you can substitute white sticky rice if you prefer.  For another kid-friendly favorite, try our Philadelphia roll with smoked salmon and cream cheese.
Ingredients
Nori seaweed
White or brown* short-grained rice, cooked
Sushi vinegar or rice vinegar 
Salt and sugar if using rice vinegar
Soy sauce
Wasabi
Pickled ginger
1 jumbo scallop per roll
Avocado
Sriracha sauce
To make the vinegared rice, cook the rice according to the instructions on the package.  *Short-grained white rice is traditionally used but a friend introduced me to making sushi with brown rice to add whole grains and nutrients.  While the rice is still hot, fold in the vinegar dressing (using sushi vinegar or a mixture of rice vinegar, sugar and salt).  A ratio of 1 3/4 cups uncooked rice, 3 Tbsp rice vinegar, 2 1/2 Tbsp sugar and 2 tsp salt is recommended.  Let the rice cool to room temperature.  (Don't place it in the refrigerator or else it will become hard). 
Rinse the scallop and at it dry.  Cut into smaller pieces.  Lightly coat a pan with cooking oil and heat it over medium-high heat.  Sear the scallop pieces with salt and pepper to taste, until the sides are golden brown. 
To roll the sushi, place a piece of nori seaweed on a square of plastic wrap.  Spread several heaping spoonfuls of vinegared rice onto the nori seaweed, leaving about one inch on one of the sides of seaweed bare.  Position the seaweed so that the side with the bare edge is at the top.  Place the seared scallop pieces and several avocado slices on the bottom of the seaweed.  Drizzle sriracha sauce over the filling.  Roll up the seaweed until it completes one roll and the seaweed is tucked underneath.  Using your hands or a bamboo mat, gently form the roll and then continue rolling the seaweed until you reach the bare spot.  Dab your fingers in water and spread the water on the bare seaweed so that the roll will seal together.  Then finish rolling up the sushi.  Set the rolled sushi on a platter and then when you are ready to eat, cut the rolls into slices, arrange the slices on a plate and serve them with soy sauce, wasabi and pickled ginger.
Click here to view a guide for selecting seafood.
Tags: avocado, brown rice, scallops, seaweed, sriracha sauce