Print This Recipe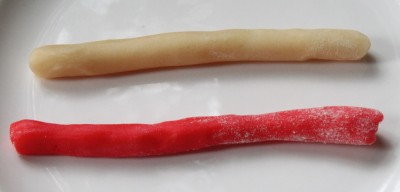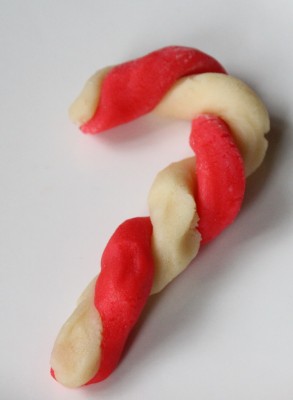 Your kids can help make these colorful and festive candy canes that taste like peppermint shortbread.  I recommend working with small amounts of dough at a time, leaving the rest in the refrigerator, because the dough breaks and cracks more easily as it comes to room temperature. 
Ingredients
1 cup butter, softened
1 cup powdered sugar
1 egg
1/2 tsp vanilla extract
1/2 tsp peppermint extract
2 1/2 cups flour
1/4 tsp red food coloring
Cream the butter and the sugar until fluffy.  Add the egg, vanilla, peppermint and flour.  Divide the dough in half.  Stir the food coloring into one half.  Cover the pieces of dough with plastic wrap and refrigerate them for several hours or overnight.
Shape 1 teaspoon of dough into a 4 to 5-inch cylinder.  Do the same with a red piece of dough.  Gently twist the two ropes together and bend them into the shape of a candy cane.
Place the candy cane cookies on a greased baking sheet and bake them at 350 degrees for 8-10 minutes.  Do not let the cookies brown.
Recipe source: Martha Stewart
Tags: butter, candy cane, peppermint