Print This Recipe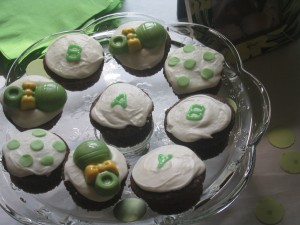 Chocolate Cake, for cupcakes
Baby chocolate candy molds with the colored chocolate (Michael's has a good selection of molds and chocolates.)
Green Fondant
Bake the cupcakes and let them cool completely.  Ice them with white buttercream frosting. 
Follow the directions on the chocolate molds to make the chocolate candy designs.  Top some of the cupcakes with the chocolate baby rattles (or other baby icons). 
Cut the baby's name out of green fondant.  Place the fondant letters on some of the cupcakes. 
Cut polk-a-dots out of the green fondant.  Cover the rest of the cupcakes with the green polk-a-dots.