Print This Recipe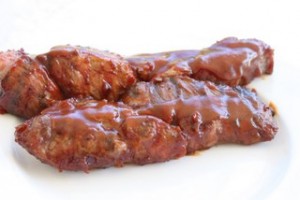 These ribs are great for any BBQ or picnic.  The key is to sear the meat on high for a couple of minutes to lock the juices inside, and then slow-cook them until done so that they remain tender.  I like to serve them with corn on the cob, baked beans and potato salad.  My family mixes and matches different BBQ sauces to taste to get the perfect blend of spicy and sweet.  

BBQ Boneless Beef Short Ribs
Author:
Itsy Bitsy Foodies
Prep time:
Cook time:
Total time:
Ingredients
3-4 pounds boneless beef short ribs
4 bottles of BBQ sauce, of your choice
Tiger sauce
Instructions
Heat the BBQ to high and cook the meat for 1-2 minutes on each side.
Remove the meat from the heat and let it cool to room temperature.
Turn the BBQ to low heat.
Return the meat to the BBQ and cook it on low heat for 1-2 hours, flipping occasionally to cook it evenly.
Mix the BBQ sauces and a few drops of tiger sauce to taste.
During the last 20 minutes of cooking, slather the BBQ sauce mixture generously on each side of the ribs.
Finish cooking the meat until it is done, continuing to put BBQ sauce on each side.
Tags: BBQ ribs, BBQ sauce, bbq short ribs, boneless beef short ribs, boneless ribs, tiger sauce