Print This Recipe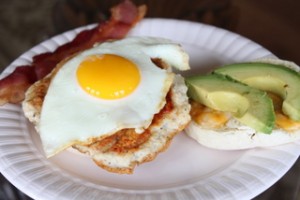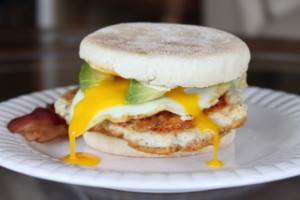 Most kids like Sausage and Egg McMuffins from McDonald's so this sausage and egg sandwich is an easy sell for breakfast.  Making them at home is easier than you think and a whole lot better for you and your family.  I like making the sausage using ground chicken or turkey.  They can be made the day ahead and refrigerated, or even frozen with waxed paper between each patty.  But you can substitute store-bought sausage patties if you are short on time.
Ingredients
4 English muffins
4 homemade breakfast sausage patties, cooked
4 eggs, cooked to taste
1 avocado, sliced
Grated Colby Jack cheese
Bacon, optional
Split open the English muffins and place them on a baking sheet.  Cover each half with grated cheese.  Bake them at 350 degrees for 10 minutes, or until the cheese is beginning to melt.  Then, when you are ready to serve the sandwiches, broil the English muffins for a couple of minutes until the cheese is bubbling and the bread turns a light golden brown.  Watch them carefully to make sure that they don't burn.
Take a stick of butter and rub one end over the surface of a large pan to lightly coat it with butter.  Heat it over medium-low heat.  Crack the eggs into the pan and cook them for several minutes, or until they are done how each person wants them.  If you want the yolk to cook more, cover the pan and turn the heat to low.
To assemble the sandwiches, place each sausage patty on a broiled English muffin.  Top with the egg.  Arrange 2-3 avocado slices on the melted cheese of the top half of the English muffin.  Press the top onto the egg and enjoy!
Tags: avocado, cheese, egg, english muffin, homemade breakfast sausage