Print This Recipe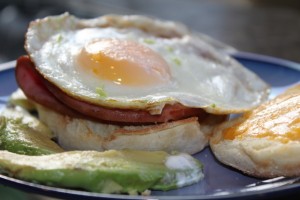 This breakfast sandwich is quick and easy.  The following recipe is a base recipe but we change it up depending on what we have on hand.  Mix and match the meats and toppings of your choice.  Be creative and let everyone build their own!
Ingredients
1 English muffin
1 egg
1 piece of sliced ham
2 sausage links (pre-cooked), optional (I like using chicken or turkey sausage.)
2 bacon slices (cooked), optional
Roughly 1/4  cup grated cheese or 1 slice of cheese (such as cheddar or Colby-jack)
Garlic bread sprinkle, optional
2-3 avocado slices
Heat a pan at medium heat.  Rub a stick of butter on the bottom of the pan to lightly grease it.  Crack the egg into the pan and cook a few minutes until the egg is done to your liking.  If you like the yolk cooked completely through, I recommend turning down the heat after the egg white is cooked and covering the pan.  This will allow the yolk to cook without overcooking the egg white.
Either cook the ham and sausage (pre-cooked) on a stove top until heated, or microwave for roughly 30 seconds.  Slice the sausage links in half (lengthwise). Brown the meats in a pan on medium heat.  I usually use the same pan as the egg because it is already heated and then I only have to clean one pan.
Slice open the english muffin and place on a baking sheet.  Place grated or sliced cheese on each half.  Sprinkle each half with garlic bread sprinkle if desired.  Broil for 1-2 minutes until the cheese melts and the muffin is lightly toasted.  Watch it constantly so that the muffin does not burn.
To assemble the sandwich, stack the egg on the bottom half of the English muffin.  Top with ham and/or sausage and avocado slices.  Cover with the other half of the English muffin.
Tags: avocado, cheese, egg, english muffin, ham