Print This Recipe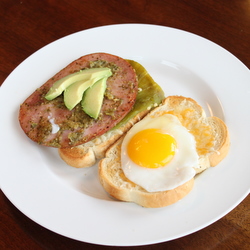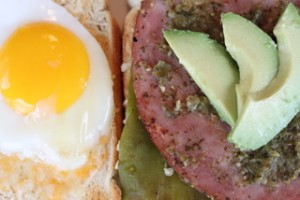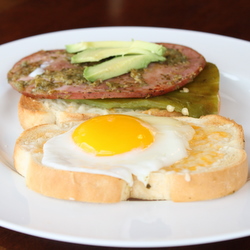 There are many different flavors in this sandwich that mask the fact that it's made with healthy ingredients.  It's colorful, visually appealing and easy to make, too.
Ingredients
2 slices of sourdough bread
1 egg
1 slice of ham, thickly cut
1-2 Tbsp salsa verde
1/4-1/2 cup Colby Jack cheese, grated
1/4 of an avocado, sliced
1 roasted green chile
Light sour cream, optional
Place the bread slices on a baking sheet and sprinkle them with grated cheese.  Bake them at 350 degrees for 5-10 minutes.  Once the cheese begins to melt, turn the oven to broil and finish cooking them until the bread is golden brown and the cheese is bubbly.  Watch the bread closely to make sure that it doesn't burn.
Lightly coat a pan with butter and heat it over medium heat.  Crack an egg into the pan and cook it until it is done to your liking.
Lightly coat another pan with cooking spray or oil and heat it over medium heat.  Place a piece of ham in the skillet with 1-2 Tbsp salsa verde and cook it until the ham begins to brown.
To assemble the breakfast sandwich, place a roasted green chile on one slice of cheese bread and top it with the salsa verde ham and some avocado slices.  Place the cooked egg on the other slice of cheese bread.  You can either eat the open-faced sandwich or press the two slices together.  I like to serve the breakfast melt with light sour cream.
Tags: avocado, cheese, egg, green chile, ham, salsa verde