Wed, May 26, 2010
Africa, Africa Day, Around the World, Disguising Healthy Foods, Foodgawker, Fun Family Activities, Ghana, Holidays, Itsy Bitsy Foodies Sightings, Kwanzaa, Search by Course, Soups, Taste For Life, TasteSpotting

Print This Recipe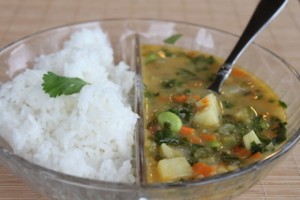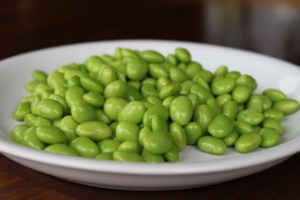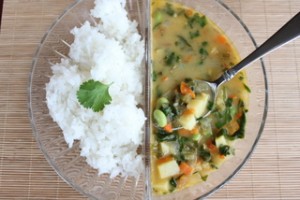 I found a recipe for African Peanut Stew in a newspaper clipping in my mother-in-law's recipe box a while ago and it's been on my "to make" list ever since.  I decided to make it in honor of Africa Day, a celebration of African Unity on May 25.
Variations of the stew can be found throughout West Africa and it is also known as Ghanian Groundnut Stew, Nkate Nkawan and Maafe.  The stew is a popular dish during the celebration of Kwanzaa.
Groundnuts, commonly known as peanuts, are a central ingredient to the dish.  You can add meat (such as chicken or ground turkey) or keep it a vegetarian meal.  This version has edamame which offers a healthy dose of protein along with other nutrients.  Kids will like the addition of peanut butter in the broth which helps disguise the fact that the stew is full of healthy vegetables.

Author:
Itsy Bitsy Foodies
Prep time:
Cook time:
Total time:
The addition of peanut butter in the broth helps disguise the fact that the stew is full of healthy vegetables.
Ingredients
1 Tbsp olive oil
1 medium red onion, finely chopped
1 medium pasilla pepper, finely chopped
2 small carrots, chopped
1 rib of celery, chopped
3-4 garlic cloves, minced
2 Tbsp minced ginger
½ tsp curry powder
2½ tomatoes, chopped
4 cups low-sodium chicken broth
1 sweet potato, peeled and chopped into ½-inch cubes
1 - 1½ cups shelled edamame
¼ cup natural peanut butter
¼ cup chopped cilantro
2-3 cups spinach, chopped
½ tsp salt, to taste
Black pepper, to taste
Instructions
Heat the olive oil in a large pan over medium heat.
Sauté the onion, green pepper, carrots and celery for 5 minutes or until they are soft and translucent.
Add the garlic, ginger and curry powder and sauté for 1-2 minutes or until they are fragrant. Be sure not to brown the garlic.
Add the tomatoes and cook for about 3 minutes until they have reduced.
Add the broth and the sweet potatoes and bring the stew to a boil.
Reduce the heat to low and let it simmer for 8 minutes or until the sweet potato chunks are tender. (Covering the pan will help the potatoes cook faster.)
Add the edamame and peanut butter and stir until the peanut butter is fully dissolved and the beans are heated.
Add the spinach and cilantro and stir until the spinach is wilted.
Season the stew to taste with salt and pepper.
Serve the stew over rice, couscous or the starch of your choice.
Recipe adapted from
Celebrating America's Love of Food
(originally adapted from
Stop the Clock! Cooking: Defy Aging – Eat the Foods You Love
by Cheryl Forberg RD)
Tags: carrot, cilantro, edamame, garlic, ginger, onion, peanut butter, soup, spinach, stew, sweet potato, tomato