Tue, Jun 22, 2010
Around the World, Disguising Healthy Foods, Foodgawker, Itsy Bitsy Foodies Sightings, North America, Search by Course, Soups, TasteSpotting, United States

Print This Recipe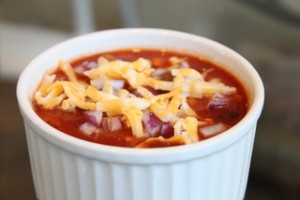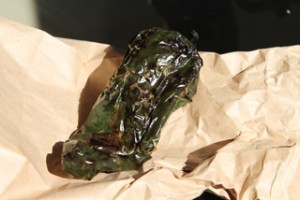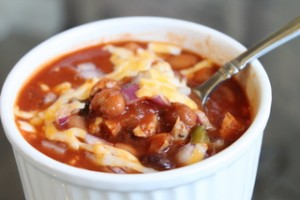 This chili is easy to make and can be made on the stovetop or in a slow-cooker.  We had BBQ chicken for a birthday party so I chopped up the leftover chicken for some chili the next day.  But you could also use chicken breast or ground chicken, turkey or beef.  If you begin with raw meat, just be sure to brown it on the stovetop before adding it to the chili.  I have listed the seasonings that I used but you can, of course, season your chili to taste. 

Author:
Itsy Bitsy Foodies
Prep time:
Cook time:
Total time:
This chicken chili is easy to make and is a great way to use up leftover BBQ chicken.
Ingredients
½ of an onion, chopped
3 garlic cloves, chopped
2 poblano chiles, roasted and chopped, or 1 small can diced green chiles
1½ - 2 Tbsp chili powder
1 tsp salt
¼ tsp black pepper
½ tsp cayenne pepper
1 tsp oregano
1 16-ounce can tomato sauce
¼ cup water (rinse the can of tomato sauce)
2 cups chicken broth
1 tsp paprika
1½ -2 cups chopped cooked chicken
1 15-ounce can of black beans, rinsed and drained
1 15-ounce can of pinto beans, rinsed and drained
Instructions
Lightly coat a pan with cooking oil and heat it over medium heat.
Sauté the onion, garlic and peppers with all of the spices for roughly 5 minutes, until the onion and garlic begin to soften.
Add the tomato sauce, water and chicken broth.
Then stir in the chopped chicken and the beans.
Bring the chili to a boil and then reduce the heat to low and let it simmer for twenty minutes, or until you are ready to eat.
Slow-Cooker Version
Brown the veggies with the spices and then add all of the ingredients to the slow-cooker.
Cook the chili according to the slow-cooker's directions.
Tags: cayenne pepper, chicken, chicken chili, chili, chili powder, garlic, onion, paprika, soup, tomato sauce