Mon, Jun 21, 2010
Around the World, Chicken & Turkey, Disguising Healthy Foods, Foodgawker, Honest Cooking, Itsy Bitsy Foodies Sightings, Main Dishes, North America, Quick n' Easy, Search by Course, TasteSpotting, United States

Print This Recipe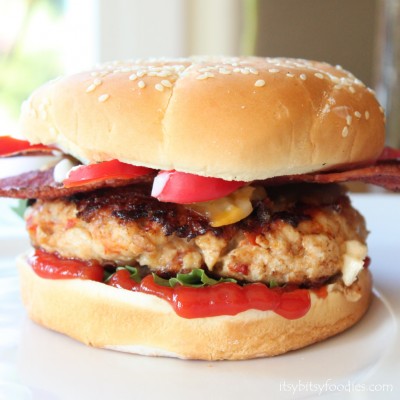 You won't miss the beef with these turkey burgers that are tender, flavorful and juicy…and easy to throw together.  They are a staple dinner in my household, especially during the summer months. 
My family liked the idea of having a turkey burger with turkey bacon, but after trying that once we decided that if we are going to have bacon we'd rather have the real thing.  So we typically serve our turkey burgers with bacon, avocado slices, red bell pepper slices, lettuce, ketchup and homemade ranch dressing but you can use the condiments of your choice. 

Author:
Itsy Bitsy Foodies
Prep time:
Cook time:
Total time:
You won't miss the beef with this flavorful and juicy turkey burger.
Ingredients
1 - 1¼ pound ground turkey (or ground chicken or ground beef)
½ of a red bell pepper, chopped (or 1 serrano pepper)
3 Tbsp crumbled feta cheese
½ cup shredded Jack cheese
1-2 tsp paprika
1-2 tsp cayenne pepper
5 drops Worcestershire sauce
4 hamburger buns
Condiments
Avocado
Bacon
Cheese
Red bell pepper
Lettuce
Tomato, etc.
Instructions
Mix all of the ingredients together in a bowl and shape the meat into four hamburger patties.
Grill the burgers on the BBQ or cook them on the stovetop.
To cook them on the stovetop, lightly coat a pan with cooking oil and cook the burgers at medium heat for 7-10 minutes on each side.
To help the burgers cook all the way through, cover the pan while they are cooking.
Assemble the burgers with the condiments of your choice.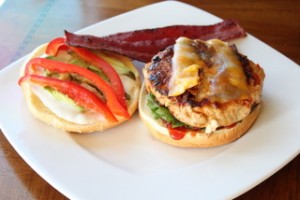 Tags: avocado, feta, ground turkey, red bell pepper