Thu, Jun 24, 2010
Appetizers, Around the World, Disguising Healthy Foods, Foodgawker, Itsy Bitsy Foodies Sightings, Main Dishes, North America, Quick n' Easy, Search by Course, Snacks, United States

Print This Recipe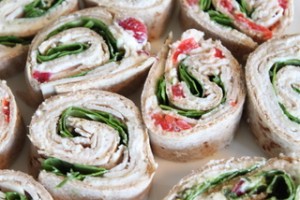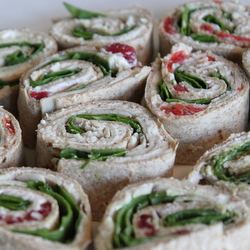 These wraps are quick to make and though they are light, they are very flavorful.  They were the perfect picnic dish for our lunch at the park the other day!  I used garlic and herb-flavored feta but you could use another flavor, or even plain and season it yourself.  I like to divide the cream cheese spread into four portions and make an assortment of wraps.
Ingredients
1/2 cup light cream cheese, softened
1/2 tsp oregano
1/2 cup crumbled feta cheese, plain or flavored
4 whole-wheat tortillas
1/2-pound of turkey breast meat (deli meat)
1 cup spinach leaves, washed and dried
Filling options:
1/4 of an avocado, chopped
1-2 tsp roasted red peppers or pimientos
1-2 tsp Craisins
Kalamata olives, chopped
Sun-dried tomatoes, chopped
Combine the cream cheese, feta and oregano in a bowl until a smooth, spreadable mixture forms.  Divide the cream cheese mixture into four parts and add your choice of ingredients to each one.  Spread the cream cheese mixtures onto the four wheat tortillas.  Top with slices of turkey breast and spinach leaves.  Roll the tortillas up tightly and cover them with plastic wrap.  Refrigerate for 15-20 minutes (or longer) until the wraps are firm enough to slice. 
Cut off the ends of each wrap and slice the rest of each roll into six pieces.  Serve them immediately.
Recipe adapted from: Eating For Life
Tags: avocado, craisins, cream cheese, feta, roasted red peppers, spinach, turkey, whole weat tortillas