Fri, Jun 25, 2010
Around the World, Disguising Healthy Foods, Foodgawker, Itsy Bitsy Foodies Sightings, Main Dishes, Mexico, North America, Seafood, Search by Course

Print This Recipe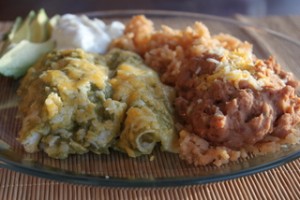 Enchiladas are a great way to get your family to eat seafood.  Shrimp, scallops, crab and cod are all good options for the filling because they are firm and have mild flavors.  In my family we prefer to use homemade corn tortillas, salsa verde and Mexican rice but you can use store-bought versions if you are short on time.

Seafood Enchiladas Verdes
Author:
Itsy Bitsy Foodies
These seafood enchiladas are a great way to get your family to eat seafood.
Ingredients
1 cooked crab, shelled
6 scallops, rinsed
6 shrimp, rinsed and de-veined
Corn tortillas
Grated Colby Jack cheese
Salsa verde, several cups, depending on the size of the pan of enchiladas
Light sour cream
1 avocado, sliced
1 can of refried beans
Arroz (Mexican rice)
Instructions
To cook the scallops and shrimp, place them on a broiling pan and lightly sprinkle them with salt, black pepper and garlic powder.
Broil them for 2-3 minutes on each side, until the seafood is fully cooked.
The shrimp will turn pink and cook faster than the scallops so you will need to flip them and ultimately remove them from the oven before the scallops.
Once the seafood is cooked, let it cool for a few minutes and then cut it into bite-sized pieces.
Working with one corn tortilla at a time, sprinkle grated cheese down the center and then top with chunks of cooked crab, scallop and shrimp.
Roll the tortilla as tightly as possible and place it in a lightly greased 9x13 pan. Continue the process until you fill the pan.
If you have leftover seafood, you can serve it as an appetizer or save it for another use.
Once the pan is filled with rolled enchiladas, pour salsa verde over the top to cover the tortillas.
Then sprinkle the enchiladas with grated cheese.
Bake the enchiladas at 350 degrees for 10-15 minutes until the cheese begins to melt. Finish by broiling them until the cheese is bubbly and the enchiladas are light golden brown.
Serve them warm with rice, beans, avocado slices and light sour cream.
To prepare the beans, pour the can of refried beans into a sauce pan and heat them over medium heat for 5-10 minutes, letting them simmer on low until they are heated through.
You can add grated cheese and a tiny bit of milk to make them creamy, or stir in some salsa to give them a kick. S
eason them to taste. (I usually add a dash of garlic powder, cumin and/or chili powder.)
TIP: Once the pan is full, the enchiladas will keep each other rolled and in place. While you are in the process of filling the pan, push a glass up against the rolled enchiladas to keep them from unrolling.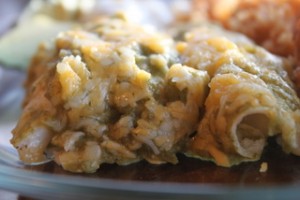 Click here to view a guide for selecting seafood.
Tags: avocados, cheese, corn tortillas, crab, enchiladas, enchiladas verdes, salsa verde, scallops, seafood, shrimp