Print This Recipe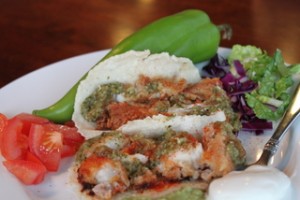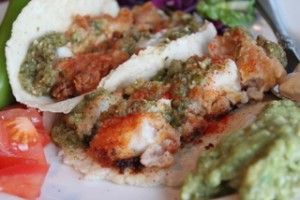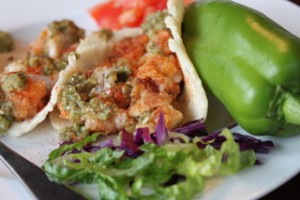 My family loves fish tacos.  This time we decided to make them a little differently, battering and baking the cod pieces à la Baked Chicken Nuggets with Creamy Bacon Dip.  They were outstanding.  Preparing the fish this way makes the tacos more kid-friendly and they appeal to people who typically aren't seafood lovers, too!
Ingredients
1 pound of cod, cut into chunks
2 cups buttermilk
2 Tbsp hot sauce (we like Trappey's Louisiana Hot Sauce: Original Recipe)
2 1/2 cups all-purpose flour
2 tsp cayenne pepper
2 tsp paprika
1 tsp garlic powder
1 tsp salt
1 tsp pepper
Guacamole or avocado chunks
1 tomato, chopped
1/4 of a purple cabbage, chopped
Canola oil
Combine the buttermilk and the hot sauce in a large bowl.  Stir in the cod chunks, cover the bowl with plastic wrap and let the fish marinate in the refrigerator for at least 30 minutes. 
Whisk the flour, cayenne, paprika, garlic powder, salt and pepper in a bowl.  Dredge the buttermilk-soaked fish pieces in the flour mixture.  Then, place them on a baking sheet coated with a thin layer of canola oil.  Bake them at 400 degrees for 5 minutes on each side, or until the fish is cooked through.  You can also cook them over medium heat on the stovetop, in a pan coated with oil.
To serve, place several crunchy fish pieces down the middle of a homemade corn tortilla and drizzle the taco with salsa verde and/or salsa verde cream dip.  Add the other condiments of your choice, including guacamole or avocado chunks, chopped purple cabbage, and chopped tomato.
Click here to view a guide for selecting seafood.
Tags: cod, corn tortillas, guacamole, purple cabbage, salsa verde