Mon, May 3, 2010
Around the World, Cinco de Mayo, Disguising Healthy Foods, Fun Family Activities, Holidays, Itsy Bitsy Foodies Sightings, Main Dishes, Mexico, North America, Quick n' Easy, Sauces, Marinades & Dips, Search by Course, Steak & Beef, TasteSpotting

Print This Recipe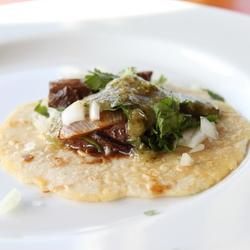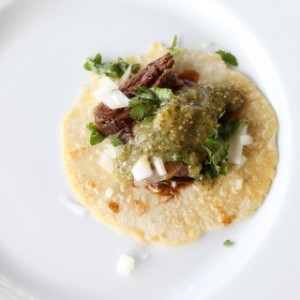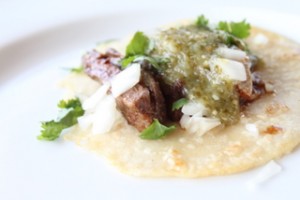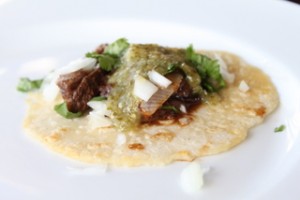 The other night we made carne asada tacos with homemade corn tortillas.  It was quick, simple and worthy of any dinner party!
Carne asada literally means "roasted meat" in Spanish and is typically a flank steak or skirt steak that is thinly cut and roasted or grilled.  You can marinate it or simply salt and pepper the meat.  It is great for all sorts of Mexican dishes, including burritos and tacos, and is also commonly served on its own with a side of rice and beans.
These steak tacos were the closest that we have come to replicating the tacos from one of our favorite restaurants.  The corn tortillas were tender and pliable and the steak was tender and juicy.  Topped with chopped onion, cilantro and a drizzle of salsa verde, we didn't even miss the cheese!

Author:
Itsy Bitsy Foodies
Prep time:
Cook time:
Total time:
These carne asada tacos are the closest that we have come to replicating the tacos from one of our favorite Mexican restaurants.
Ingredients
1 small skirt steak
Lime juice of ½ lime
Pinch of oregano
1 tsp cayenne pepper
2 garlic cloves, minced
¼ cup chopped onion
½ tsp salt
Instructions
Combine the meat and the rest of the ingredients in a Ziploc bag and let it marinate in the refrigerator for thirty minutes or more.
Lightly coat a pan with vegetable oil and heat it over medium heat.
Cook the steak for approximately five minutes on each side until it is done to your liking.
Remove the steak from the pan and let it cool for ten minutes to allow time for the steak to re-absorb the juices.
Once it is cool enough to handle, cut it into thin strips.
You can also grill the steak on the BBQ.
To assemble the tacos, place approximately three strips of steak down the middle of a homemade corn tortilla.
Sprinkled chopped onion and chopped cilantro on the steak and drizzle it with salsa verde.
Or create a buffet line and let everyone assemble their own tacos.
Tags: cilantro, corn tortillas, lime, onion, salsa verde, skirt steak, steak tacos