Print This Recipe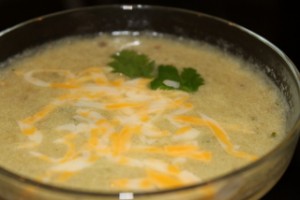 My friend Rosy from Mexico sent me this recipe.  It is a great starter soup for Cinco de Mayo or any other Mexican meal.
One of the dominant flavors of this soup is coriander.  Coriander seeds are part of the cilantro plant, a plant of many names which is also known as Chinese parsley and coriander. 
One of my favorite ingredients is cilantro leaves but I have not cooked much with the seeds.  I discovered with this soup that the seeds have a completely different taste than the leaves.  They impart a strong flavor with nutty citrus undertones to the soup so you can adjust the quantity according to your taste.  I left the seeds whole but if you prefer having a smooth soup, you can use a smaller amount of ground coriander.
Poblano peppers are a relatively mild chile pepper that originated in the Mexican state of Puebla.  Appropriately, poblano is the term used for a person from Puebla.  When dried, the poblano pepper is referred to as an ancho pepper.  If you can't find poblano peppers you can substitute another mild chile such as Anaheim, Pasilla or a mix of chiles.  Use canned chiles or roast your own.
Ingredients
3 ounces butter (I only used 1-2 Tbsp)
1 onion, sliced
1 can of poblano peppers, roughly 2-3 chiles
2 cups chicken stock
1 Tbsp coriander seeds
1 cup cream
Garlic powder, to taste
Salt, to taste
8 ounces Monterey Jack cheese, grated or cut in cubes
3 corn tortillas, cut in squares and fried
Melt the butter in a pan over medium-high heat.  Pan-fry the onion slices until they are lightly browned.  Add the chiles and cook them with the onion for a couple of minutes.  Let the browned vegetables cool and then blend them with the chicken stock and coriander seeds.
Heat the blended soup over medium heat and season it with garlic powder and salt, to taste.  Add the cream and heat until the soup is very hot.
Sprinkle with cheese and small totopos (or crumbled tortilla chips).
To make homemade totopos (tortilla chips), heat several tablespoons of oil on high heat and add strips or squares of corn tortillas.  Fry them until they are light golden and crispy.  Remove them from the hot oil and let them cool on a plate lined with paper towels to absorb the excess oil.  Sprinkle with salt to taste.
To roast your own chiles, place them on a baking sheet and broil them on high for 5-7 minutes on each side, until the skin is charred.  Place them in a paper bag and roll down the top of the bag to seal.  Let them rest for 5-10 minutes until the charred skins are easier to peel off, leaving  the soft and tender chile flesh.
Tags: chicken stock, coriander, cream, onion, poblano peppers