Sun, Apr 18, 2010
Around the World, Disguising Healthy Foods, Itsy Bitsy Foodies Sightings, Mexico, North America, Sauces, Marinades & Dips, Search by Course, TasteSpotting

Print This Recipe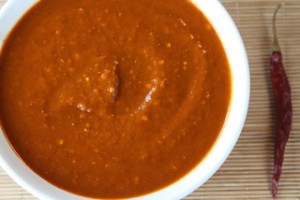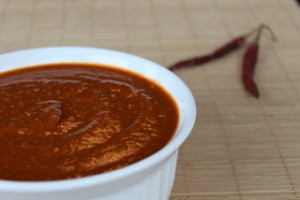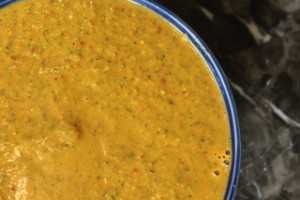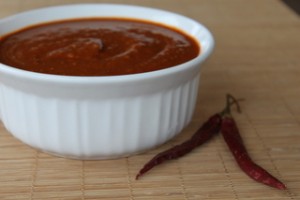 One of our favorite Mexican restaurants makes a salsa out of chiles de Arbol, which has a different spice than the red salsas that you typically find at Mexican restaurants.  The restaurant serves simple, authentic tacos with marinated meat, cilantro and onion on homemade corn tortillas.  We really like the combination of their salsa verde and chile de Arbol salsa with the tacos. 
After many incredible meals at this restaurant, we decided to try to make the chile de Arbol salsa at home.  The base of the salsa is typically dried chiles de Arbol and Roma tomatoes.  However, we substituted tomatillos for the tomatoes and added jalapeño peppers to imitate the flavorful combo of salsa verde and chile de Arbol salsa that we love.  Our recipe is essentially our homemade salsa verde with the addition of chiles de Arbol. 
You can buy the chiles de Arbol in dried form and rehydrate them for the salsa.  Once you boil them with water, they will plump up and turn a brilliant, shiny red. 
To make the salsa less spicy, you can cut down on the chiles de Arbol and/or eliminate the jalapeño peppers.  For a spicier version, you can add more chiles de Arbol and/or use serrano or habañero peppers.  The color of the salsa will also vary depending on how many chiles de Arbol you use (see pictures). 
Ingredients
1 Tbsp canola oil
10-15 dried chiles de Arbol
1-2 jalapeño peppers
7 tomatillos
1 bunch of cilantro
1 tsp salt, to taste
1/4 of a white onion
2 garlic cloves
The juice of 1/2 lime, optional
Peel, scrub and rinse the tomatillos.  Put them in a pot with water and bring them to a boil.  Let them boil for 20-25 minutes.
Heat 1 Tbsp canola oil in another pan over medium-high heat.  Sauté the chiles de Arbol and jalapeño peppers for several minutes.  Then add them to the boiling tomatillos along with the garlic and the onion to finish boiling.
Once boiled, drain the water from the vegetables, except for 1/2 – 1 inch of water.  Blend the boiled vegetables and the cilantro until smooth.  Salt the salsa to taste.  Stir in lime juice if desired.
Let the salsa cool.  Use immediately or store in a sealed container in the refrigerator.
Tags: chiles de Arbol, cilantro, garlic, onion, serrano peppers, tomatillos