Print This Recipe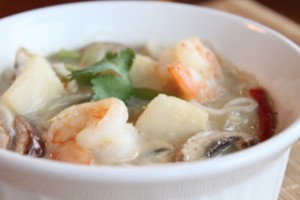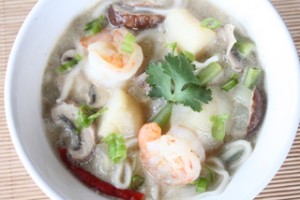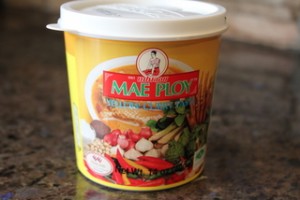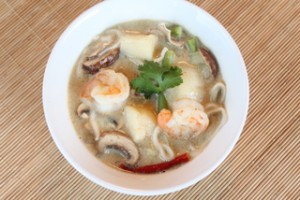 I love curry over rice so the idea of curry soup with noodles was intriguing.  I used light coconut milk and it was still creamy and rich.  The seasonings of the soup are similar to those in my favorite Thai chicken curry recipe because my family likes those flavor combos so much.      
You can find curry paste in the Asian section of most grocery stores.  I used yellow curry paste because that's what I had on hand.  But you can use red, yellow or green curry paste depending on your personal preference.  By using more curry paste, you can make the soup spicier.  By omitting the dried chiles you can make the soup less spicy. 
Ingredients
12 ounces chow mein or spaghetti noodles
1 1/2 Tbsp curry paste
2 14-ounce cans of light coconut milk
1/2 cup low-sodium chicken broth
2 tsp grated ginger
1/2 tsp salt
4 ounces green beans
4 ounces crimini mushrooms
7 shrimp, rinse, peeled and de-veined
3 large scallops, quartered
2 garlic cloves, minced
1/2 medium onion, chopped
4 dried chiles, whole
Salt, to taste
Black pepper, to taste
Garlic powder, to taste
Cilantro leaves
Cook the noodles according to the directions on the package.  Set aside.
Place the shrimp and scallop quarters on a broiling pan and lightly sprinkle them with salt, black pepper and garlic powder.  Cook at 400 degrees for 4-7 minutes on each side.  Flip the pieces of seafood and cook the other side.  The shrimp will cook quickly so you will need to flip them (and ultimately remove them from the oven) sooner than the scallops.  The shrimp will turn pink when they are done.
Set the cooked seafood pieces aside.
In a large pan over medium-high heat, mix the curry paste, coconut milk, chicken broth, ginger and salt.  Bring the mixture to a boil.  Add the vegetables.  Lower the heat and simmer the soup until the vegetables are tender.  This will take anywhere from 4-10 minutes, depending on the vegetables you are using.
Add the cooked seafood to the soup and let it simmer a couple of minutes in the broth.
Divide the cooked noodles into bowls.  Pour soup over the noodles and garnish with cilantro leaves.
Recipe adapted from Real Simple.
Click here to view a guide for selecting seafood.
Tags: chow mein noodles, curry, garlic, green beans, mushrooms, onion, scallops, shrimp