Print This Recipe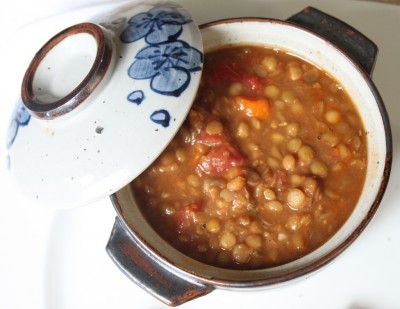 Lentils are part of the legume family and though they are small they pack a nutritional punch.  They are high in protein so are often a staple in vegetarian diets.  They are one of the best vegetable sources of iron and are also high in fiber and folate.  In a nutshell, the more lentils you consume, the better.
This is my mom's lentil soup that we had often while I was growing up.  I am so happy that my son loves it because it is such a healthy meal.  It freezes well so you can make a large batch and save some for later.  Season it to taste and add more water if you like a runnier soup.

Author:
Itsy Bitsy Foodies
Prep time:
Cook time:
Total time:
Though lentils are small they pack a nutritional punch, making this soup a healthy option for a main course or a side dish.
Ingredients
2 cups dried lentils
8 cups water
1-2 slices bacon, uncooked and cut into pieces, optional
½ of a medium onion, sliced
¼ cup chopped carrots
½ cup chopped celery
3 Tbsp chopped parsley
2 garlic cloves, minced
1 tsp salt, to taste
¼ tsp black pepper
½ tsp oregano
1-pound can solid pack tomatoes
2 Tbsp red wine vinegar
Instructions
Wash the lentils and place them in a pan with the water, bacon, onion, carrots celery, parsley, garlic, salt, pepper, and oregano.
Cover the pan and let the mixture simmer for 1½ hours.
Add the tomatoes (along with the tomato juice in the can) and break them up with a spoon.
Add the vinegar and let the soup simmer for an additional 30 minutes.
Salt the soup to taste.