Thu, Nov 3, 2011
Daily Buzz Moms, Disguising Healthy Foods, Dishfolio, Foodgawker, Honest Cooking, Itsy Bitsy Foodies Sightings, Photograzing, Search by Course, Soups

Print This Recipe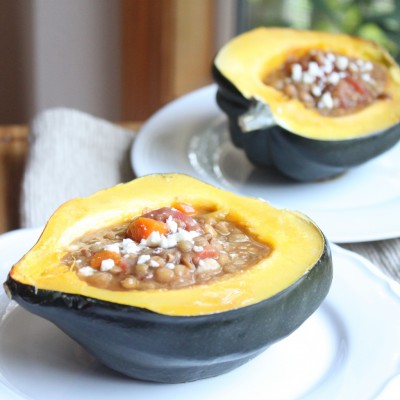 Now that the Halloween craze is over I am ready to curl up by the fire and settle in for the fall and winter.  Along with the shorter days and the chill in the air, the season for soup has arrived.  Autumn is also a season for pumpkins and all sorts of squash and it is hard not to get inspired when you see the piles of beautiful squash in all shapes, sizes and colors at the markets.
Last year I made a curried pumpkin soup in homemade pumpkin tureens so the idea of edible bowls has been on my mind.  Every time I bake squash I think it is a shame to ultimately scoop out the flesh and throw away the beautiful shell.  It's not uncommon to see soup in bread bowls so why not in squash.  Squash and pumpkins make eye-catching soup tureens, adding a rustic touch to the tabletop that can't be recreated with any store-bought ceramic bowls.  But winter squash aren't just beautiful. They are also incredibly healthy and are loaded with vitamins, anti-oxidants and a host of other nutrients.
You can use the soup and squash of your choice.  This time I decided to pair lentil soup and acorn squash for a hearty, warming and healthy meal that is perfect for chilly days.

Lentil Soup in Acorn Squash Bowls
Author:
Itsy Bitsy Foodies
Prep time:
Cook time:
Total time:
Lentil soup and acorn squash pair nicely for a hearty, warming and healthy meal that is perfect for chilly days.
Ingredients
Lentil Soup
2 cups dried lentils
8 cups water
1-2 slices bacon, uncooked and cut into pieces, optional
½ of a medium onion, sliced
¼ cup chopped carrots
½ cup chopped celery
3 Tbsp chopped parsley
2 garlic cloves, minced
1 tsp salt, to taste
¼ tsp pepper
½ tsp oregano
1-pound can solid pack tomatoes
2 Tbsp red wine vinegar
Acorn Squash Bowls
2 acorn or other winter squash
2 tsp salt
2 tsp brown sugar, optional
Instructions
Lentil Soup
Wash the lentils and place them in a pan with the water, bacon, onion, carrots celery, parsley, garlic, salt, pepper, and oregano.
Cover the pan and let the mixture simmer for 1½ hours.
Add the tomatoes and the tomato juice in the can and break them up with a spoon. Add the vinegar and let the soup simmer for an additional 30 minutes.
Salt the soup to taste.
Acorn Squash Bowls
Cut the squash in half and scoop out the seeds.
Rub roughly ½ tsp salt and ½ tsp brown sugar over the flesh of each half of squash.
Place the squash flesh down on a pan with ¼ inch of water and bake them at 375 degrees for 20-30 minutes or until the squash flesh is tender. The bake time will vary depending on the size of the squash.
Spoon the soup into each squash half and sprinkle with feta cheese.
Serve the soup immediately.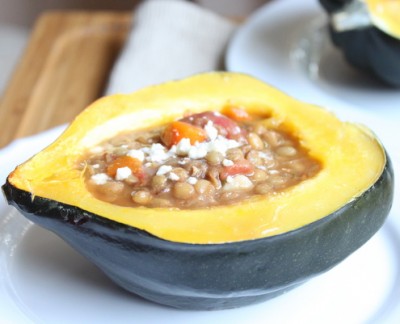 Tags: acorn squash, acorn squash bowl, lentil soup, soup, squash bowl, squash tureen