Tue, Oct 12, 2010
Disguising Healthy Foods, Foodgawker, Halloween, Holidays, Itsy Bitsy Foodies Sightings, Photograzing, Search by Course, Soups, Taste For Life, TasteSpotting, Thanksgiving

Print This Recipe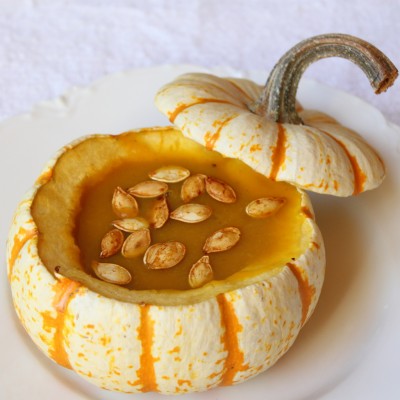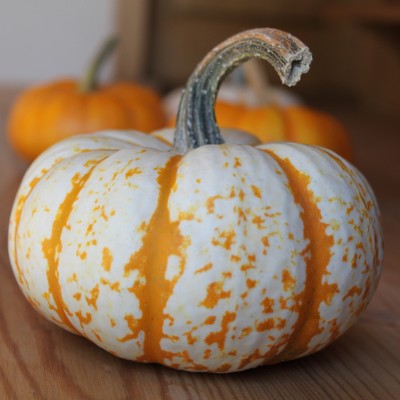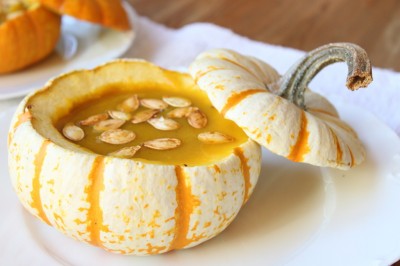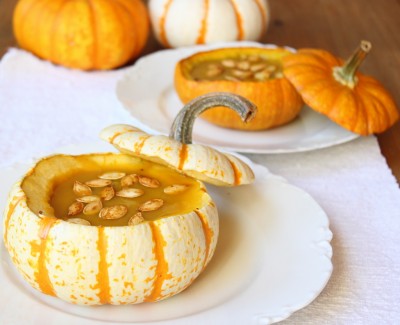 I have always wanted to serve a pumpkin or squash soup in real pumpkin tureens.  When I saw these striped mini pumpkins at our local market I knew that the time had come.  My inspiration for the soup came from a curried butternut squash soup that was one of my favorite soups from a restaurant when I was younger.  I used a basic recipe from The All New All Purpose Joy of Cooking as my guide, but I made several slight variations and ultimately substituted a bit of curry powder for ginger.   
For the soup I used sugar pie pumpkins but you could substitute any winter squash, including butternut, acorn, hubbard and delicata.  You can buy canned pumpkin purée but I prefer to make my own puree, a simple step that can be done in advance if you refrigerate or freeze the purée.  If you make your own puree, be sure to save the pumpkin seeds so that you can garnish the soup with homemade roasted pumpkin seeds.

Author:
Itsy Bitsy Foodies
Prep time:
Cook time:
Total time:
My inspiration for this soup came from a curried butternut squash soup that was one of my favorites at a restaurant when I was younger. For a festive autumn meal, serve the soup in hollowed out pumpkins.
Ingredients
Pumpkin Tureens
4-8 small pumpkins
2-4 tsp sugar
2-4 tsp salt
Pumpkin Soup
½ cup chopped leek
1 Tbsp butter
4 cups pumpkin/squash purée
3-4 cups chicken broth
¾ tsp salt
Dash of black pepper
1 tsp curry powder, to taste
Roasted pumpkin seeds for garnish
Instructions
Pumpkin Tureens
Slice the tops off of the pumpkins you would like to use as bowls. The size of the pumpkins will vary depending on whether you will be serving the soup as an appetizer or a main course.
Scoop out the flesh and seeds of the pumpkins.
Reserve the seeds to toast as a garnish or as a snack.
Sprinkle ½ tsp salt and sugar on the inside flesh of each pumpkin.
Place the pumpkins and top lids flesh down on a baking sheet and bake them at 375 degrees for 20-30 minutes, or until tender. The cook time will vary depending on the size of the pumpkins. (You will not cook them as long as you would cook a pumpkin to eat because you want them to keep their shape as a bowl.)
Pumpkin Soup
Heat 1 Tbsp butter in a large pan over medium heat.
Add the chopped leek and cook it for 5-7 minutes or until soft and tender, but not browned.
Add the pumpkin/squash purée and 2 cups of chicken broth.
Simmer the mixture for 20 minutes.
Then purée it in a blender until smooth.
Return the pumpkin/squash mixture to the pan.
Add 1 cup chicken broth, salt, black pepper and curry powder (if desired).
Add additional chicken broth if you want a thinner soup.
Heat the soup through and serve it in warmed bowls or pumpkin tureens.
Garnish the soup with roasted pumpkin seeds, croutons or chopped cilantro.
TIP: The soup will thicken as it cools so you may need to add more chicken broth to thin the soup if you make the soup in advance or eat leftovers the following day.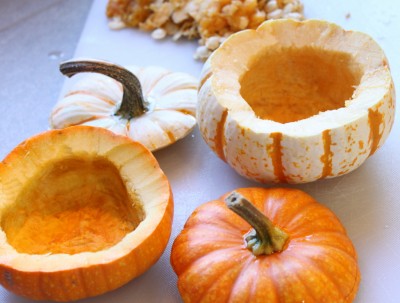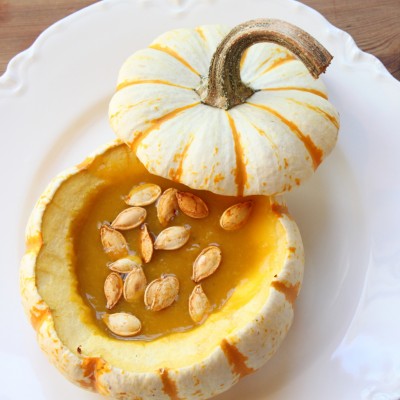 Recipe adapted from: The All New, All Purpose Joy of Cooking [ALL NEW ALL PURPOSE JOY OF COO] [Hardcover]
Tags: butternut squash soup, curried pumpkin soup, pumpkin, soup, squash, squash soup