Print This Recipe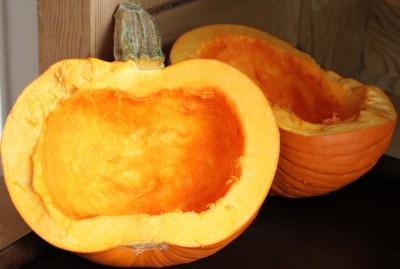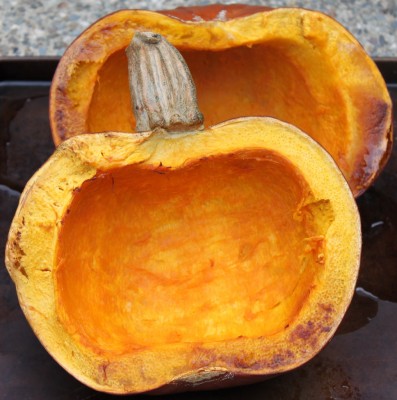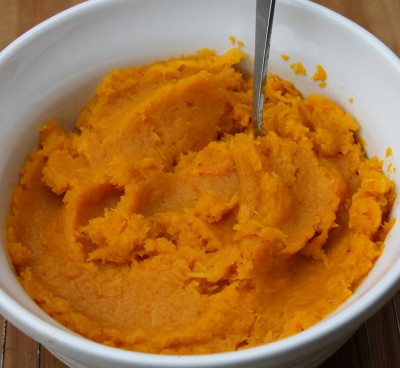 After enjoying my pumpkin as a decoration for the holidays, I baked it to make homemade pumpkin purée.  I now have a stash of pumpkin purée in the freezer (already measured into 1 and 2-cup quantities) so I'm ready to bake pumpkin bread, pumpkin muffins and pumpkin soup all winter long.  You can use any winter squash, including butternut, acorn, hubbard, delicata and sugar pie pumpkin.
Instructions
Cut your pumpkin (or squash) in half or into large chunks.  Scoop out the pulp and the seeds.  Reserve the seeds if you would like to make homemade roasted pumpkin seeds.
Place the pumpkin pieces flesh down on a baking sheet.  Bake at 375 degrees for 1-2 hours, depending on the size of the chunks.  The flesh should be soft and tender and can be easily scooped out of the skin.
Depending on the type of pumpkin or squash, it may be watery and/or stringy.  You can drain off some of the water to make it your desired consistency and blend it to get a smooth purée.   I made muffins with the stringy pumpkin flesh and it worked great; it was similar to the consistency of a carrot cake.  However, if I were making a pumpkin pie, I would blend it into to a smooth purée.
TIP: I found that sugar pie pumpkins have a similar consistency as canned pumpkin purée.
Tags: homemade pumpkin puree, pumpkin, pumpkin puree, roasted pumpkin, roasting pumpkin, roasting squash