Print This Recipe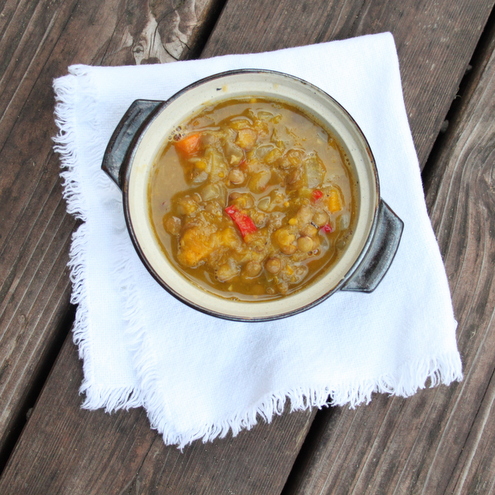 Lentil soup has always been one of my favorites.  It is hearty, comforting and healthy to boot.  With my Lentil Soup in Acorn Squash Bowls I discovered that I love the combination of squash and lentil soup.  So this time around I combined the two healthy ingredients to make this hearty vegetarian stew.  The pureed squash plus the chunks of squash give the lentil soup body.  You can use any combination of veggies but I love how the subtle sweetness from the carrots and squash complements the mild spice kick from the ginger and Fresno red peppers.  This soup is perfect for a chilly autumn and I envision making it again soon to freeze in smaller portions for easy winter meals.

Squash Lentil Soup
Author:
Itsy Bitsy Foodies
Prep time:
Cook time:
Total time:
I love the flavor and texture combination of lentils and squash so I combined the two healthy ingredients in this hearty vegetarian stew.
Ingredients
½ cup chopped leek
3 garlic cloves, minced
1 yellow onion, chopped
2 Fresno red peppers, chopped
1 Tbsp minced ginger
1-2 carrots, sliced in rounds
1 cup dried lentils
6 cups low-sodium chicken (or vegetable) broth
2 cups cooked squash chunks, divided
Salt and pepper, to taste
Instructions
Saute the leek, garlic, onion, Fresno reds, carrot and ginger in a large pot coated with olive oil, at medium high, for 5-10 minutes until starting to lightly brown and become tender.
Add the lentils and 4 cups of chicken broth and bring the mixture to a boil.
Cover the pot and let the lentils boil for 15-20 minutes.
In a blender, blend 1 cup of cooked squash chunks with 2 cups chicken broth until smooth.
Add the squash puree to the soup and let the soup continue to simmer until the lentils are fully cooked and tender.
Stir in the squash chunks and let the soup simmer on low until ready to serve.
Tags: lentil soup, lentil squash soup, soups, squash, squash and lentil soup, squash soup, stew, vegetarian stew, winter squash