Tue, Nov 8, 2011
Cooking Projects, Desserts, DessertStalking, Dishfolio, Fun Family Activities, Honest Cooking, Itsy Bitsy Foodies Sightings, Miscellaneous, Photograzing

Print This Recipe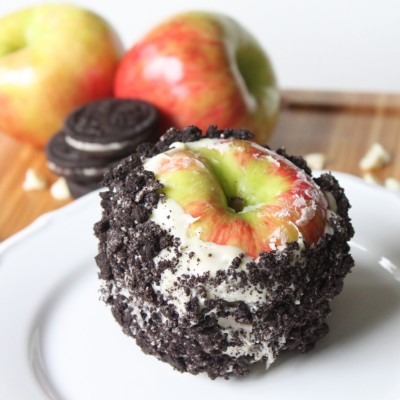 After making caramel apples last year I wanted to try a different type of candied apple this fall.  I still remember the first time that I tried a Cookies and Cream caramel apple at Rocky Mountain Chocolate Factory so I decided to make them at home.  They are super easy to make.  Simply swirl the apples in melted white chocolate and then dip them in crushed Oreo cookies.  The white chocolate hardens quickly so you can eat them almost immediately. 

Cookies and Cream Candied Apples
Author:
Itsy Bitsy Foodies
Prep time:
Cook time:
Total time:
Cookies and cream candied apples are easy to make and what's not to like about white chocolate and Oreo cookies!
Ingredients
2 apples, washed and dried
1 cup white chocolate chips
Roughly 5 Oreo cookies, crushed
Lollipop sticks, optional
Instructions
Insert lollipop sticks into the stem side of the apples if desired.
Melt the white chocolate in a double boiler over low heat, stirring it constantly once it begins to soften and melt.
Leave the chocolate on low heat to keep it warm and runny.
Dip the apples into the chocolate, using a spoon to drizzle and spread the chocolate over the apple.
Tap off any excess chocolate and then swirl the chocolate-coated apple into the crushed Oreo cookies.
Place the candied apples on waxed paper and allow the chocolate coating to harden.
Tags: candied apples, chocolate-covered apples, chocolate-dipped apples, cookies and cream candied apples, oreo cookies, white chocolate