Mon, Jun 7, 2010
Around the World, Chicken & Turkey, Cinco de Mayo, Foodgawker, Fun Family Activities, Holidays, Itsy Bitsy Foodies Sightings, Main Dishes, Mexico, North America, Quick n' Easy, Search by Course, TasteSpotting

Print This Recipe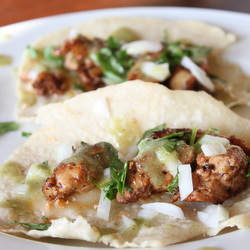 We liked the carne asada tacos that we made a while ago so much that we decided to make them with chicken.  The marinade is very similar to that which we used on the steak.  It is such a simple dinner to pull together but the flavors are so satisfying.  Serve the tacos with a side of rice and beans for a heartier meal.
Ingredients
Chopped onion
Chopped cilantro
4 chicken thighs
Juice of 1 lime
1/2 tsp salt
1/4 cup chopped onion
Dash of paprika
Dash of cayenne pepper
Dash of chili powder
Combine all of the ingredients in a Ziploc bag and let the chicken marinate in the refrigerator for thirty minutes or more. 
Lightly coat a pan with oil and heat it at medium-high heat.  Cook the marinated chicken thighs for about 5 minutes on each side.  Remove the thighs and cut them into smaller pieces.  Place the thigh strips back into the pan with the remaining marinade.  Cook the chicken until it is done and the liquid has fully evaporated.
Place several strips of chicken down the center of a corn tortilla.  Sprinkle chopped onion and cilantro over the chicken.  Drizzle each taco with salsa verde.
Tags: chicken, cilantro, corn tortillas, onion, salsa verde