Fri, Jun 18, 2010
Around the World, Disguising Healthy Foods, Foodgawker, Itsy Bitsy Foodies Sightings, Main Dishes, North America, Quick n' Easy, Search by Course, United States

Print This Recipe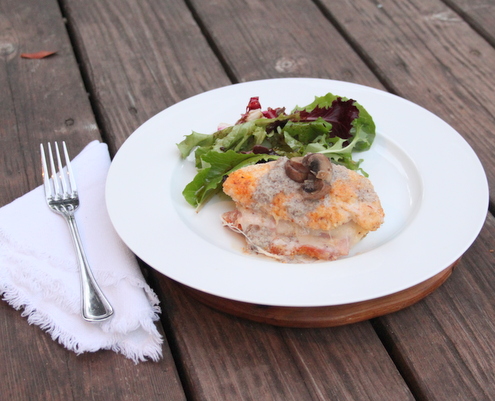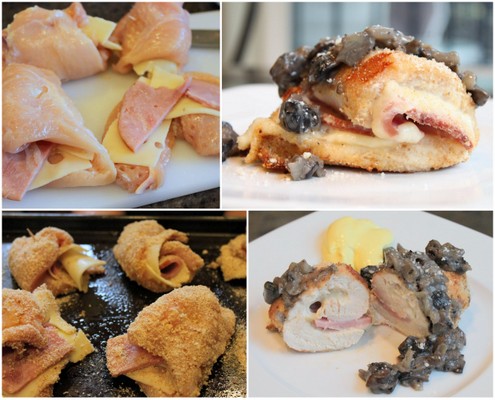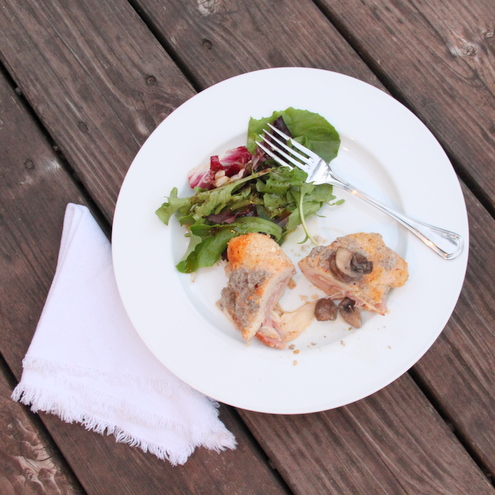 The origins of chicken cordon bleu are unclear but it is thought to be an American dish, not French, as the name implies.  The dish does not have any known relation to the prestigious cooking school, Le Cordon Bleu.  The name is most likely a twist on veal cordon bleu, a popular Swiss dish consisting of veal pieces wrapped around ham and cheese which are battered and fried.
I baked the chicken to make the dish lighter.  I have served it sometimes with a creamy mushroom sauce and other times with a cream of mushroom soup to complete this comforting, rich (but guilt-free) meal.
Rolling the chicken breasts was a learning experience for me.  I recommend cutting the breasts lengthwise and pounding them as thinly as possible.  The thinner each breast is, the tighter you will be able to roll it.  And don't be disappointed by how they look on the outside.  Once you cut them open (after they are cooked), the beautiful ham & cheese spiral will show.

Chicken Cordon Bleu
Author:
Itsy Bitsy Foodies
Prep time:
Cook time:
Total time:
Ingredients
3 chicken breasts or chicken thighs, cut in half lengthwise
6 slices of Swiss cheese (cut in roughly 4-inch squares)
6 slices of cooked ham (cut in roughly 4-inch squares)
1 egg
1 Tbsp milk
½ cup plain breadcrumbs
1 tsp garlic powder
¼ tsp salt
Dash of black pepper
Dash of cayenne pepper, optional
¼ tsp thyme
¼ cup Parmesan cheese
Mushroom Sauce
2-3 tsp butter
½ pound mushrooms, sliced
1 medium onion, sliced
2 garlic cloves, minced
3 Tbsp flour
2 cups milk
Mustard Sauce
1 cup light sour cream
⅓ cup Dijon mustard
Instructions
Pound the chicken breasts until they are very thin.
Place a piece of Swiss cheese and a piece of ham on each breast.
Roll the chicken breast up as tightly as possible and fasten the roll together with a toothpick.
Beat an egg with 1 Tbsp milk in a shallow bowl.
In another shallow bowl, mix the breadcrumbs with the garlic powder, salt, pepper, cayenne pepper, thyme and Parmesan cheese.
Dip each rolled chicken breast into the egg and then dredge it in the breadcrumb mixture.
Place the chicken breasts on a baking sheet lightly coated with cooking spray.
Bake them at 375 degrees for roughly 10 minutes on each side, until the chicken is cooked all the way through.
Mushroom Sauce
Heat 2-3 tsp butter in a sauce pan over medium heat.
Sauté the onion and garlic in the butter for 2-3 minutes.
Then add the mushrooms and cook for several minutes longer until the vegetables are beginning to soften.
Stir in the flour and then gradually add the milk, whisking the sauce constantly.
Cook the sauce until it thickens and then reduce the heat to low and let it simmer.
Mustard Sauce
Mix the mustard and light sour cream for an additional creamy sauce.
Drizzle each rolled chicken breast with mushroom sauce and serve them warm with mustard cream sauce if desired.
Tags: breadcrumbs, chicken, chicken cordon bleu, cordon bleu, cream of mushroom soup, creamy mushrooms, ham, mushroom soup, Swiss cheese