Print This Recipe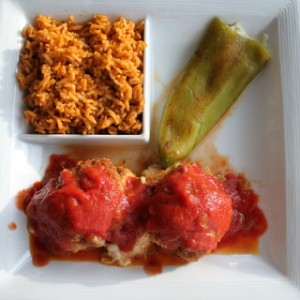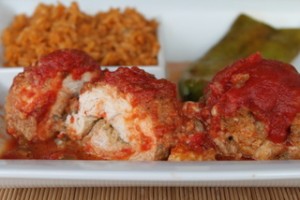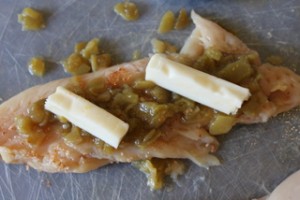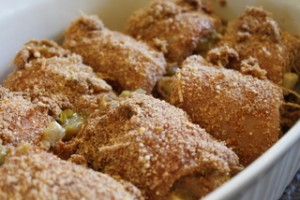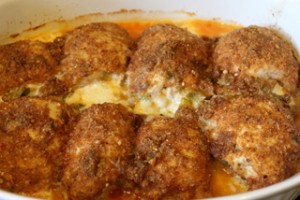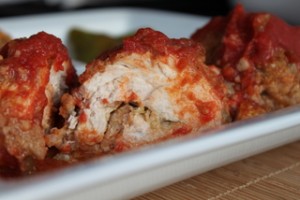 This dish was one of my husband's favorites growing up.  Now that I have made it, I can see why he liked it so much.  It is a great meal for the work week because it comes together quickly.  You can even make it ahead and let it chill for several hours or overnight.  Kids will like the cheese-stuffed chicken.  I like to serve it with Mexican rice, beans and cheese-stuffed Anaheim peppers.
Ingredients
8 chicken breast halves
7-ounce can of diced green chiles
4 ounces Monterey Jack cheese, cut in 8 strips
1/2 cup bread crumbs
1/4 cup grated Parmesan cheese
1 Tbsp chili powder
1/2 tsp salt
1/2 tsp ground cumin, divided in two
1/4 tsp ground black pepper
1 egg
1-pound can of tomato sauce
Tabasco sauce
Butter, melted 
Pound the chicken breast halves to about 1/4-inch thickness.  Put 1 strip of cheese down the center of each breast.  Cover the cheese with roughly 2 Tbsp diced green chiles.  Roll up the chicken and tuck the ends under.  (I found that it worked well to break the cheese strips in half so that I could roll the chicken in a tighter roll.)
Combine the bread crumbs, Parmesan cheese, 1/4 tsp cumin and other seasonings in a shallow bowl.  In a separate shallow bowl, beat an egg.  Dip each stuffed piece of chicken in the egg and then roll it into the bread crumb mixture to coat all sides of the chicken.  Place the chicken rolls, seam side down, in a baking dish.  You can drizzle it with a couple of Tbsp melted butter if you would like.  Or you can brush the remaining egg over the tops.  This will help keep the chicken moist.
At this point, you can cover the baking dish with plastic wrap and chill for four hours up to overnight.  Or you can bake the chicken immediately.
Bake uncovered at 400 degrees for 20 minutes or until the chicken is done. 
Serve with the Tomato Sauce drizzled over the chicken.
Tomato Sauce:
Combine the tomato sauce, 1/4 tsp ground cumin, and the rest of the diced green chiles in a pan and heat over medium heat.  Season with salt, pepper and Tabasco sauce to taste.  Bring to a boil and then reduce the heat and let it simmer, stirring occasionally.
Recipe adapted from: The Los Angeles Times California Cookbook (Plume)
.
Tags: bread crumbs, chicken, chiles, cumin, Monterey Jack cheese, parmesan cheese, tomato sauce