Thu, Mar 24, 2011
Appetizers, Around the World, Chicken & Turkey, Disguising Healthy Foods, Europe, Foodgawker, Italy, Itsy Bitsy Foodies Sightings, Main Dishes, Photograzing, Salads, Search by Course, TasteSpotting

Print This Recipe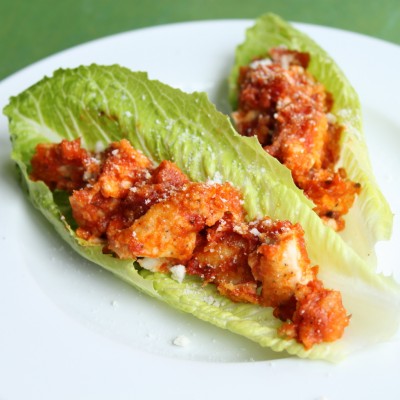 Inspired by the lettuce wraps at Asian-fusion restaurants such as P.F. Chang's, this Italian rendition is satisfying and light and makes a perfect lunch, appetizer or light dinner.  It is also a great way to turn leftover chicken parmigiana into a new meal, combining the main course chicken dish and the salad all into one.  I like to chop the strips of chicken into smaller chunks so that the wraps are easier to eat.  Use homemade marinara sauce or the store-bought variety of your choice.  Serve the wraps with homemade ranch dressing if desired.

Chicken Parmigiana Lettuce Wraps
Author:
Itsy Bitsy Foodies
Prep time:
Cook time:
Total time:
This Italian rendition of lettuce wraps is a unique way to serve Chicken Parmigiana and it combines the salad and main course into one dish.
Ingredients
1 egg
1 Tbsp water
⅓ cup all-purpose flour
¾ cup grated Parmesan cheese
2 chicken breasts, pounded and cut in thin strips
1-2 Tbsp olive oil
1 tsp salt
⅛ tsp pepper
1 15-ounce jar of marinara sauce (or homemade marinara sauce, blended until smooth)
Romaine Hearts, rinsed and dried
Homemade ranch dressing, optional
Instructions
In a shallow bowl, beat the egg with the water.
In another shallow bowl, mix the flour with ½ cup Parmesan cheese.
Dip the chicken strips in the egg mixture and then dredge them in the flour mixture, coating both sides.
Cook the dredged chicken strips in 1-2 Tbsp of olive oil over medium-high heat until they are browned on both sides.
Sprinkle the strips with salt and pepper to taste.
Pour the marinara sauce over the chicken and sprinkle the sauce with the remaining Parmesan cheese.
Bring the sauce to a boil.
Reduce the heat to low, cover the pan and let it cook for 8-10 minutes.
Chop the cooked chicken into bite-sized chunks.
Serve the chicken chunks in a bowl with the Romaine Hearts, ranch dressing and Parmesan cheese on the side.
Let everyone assemble their own wraps.
Sprinkle them with Parmesan cheese and drizzle them with ranch dressing if desired.
Tags: chicken, Hearts of Romaine lettuce, marinara sauce, parmesan cheese