Print This Recipe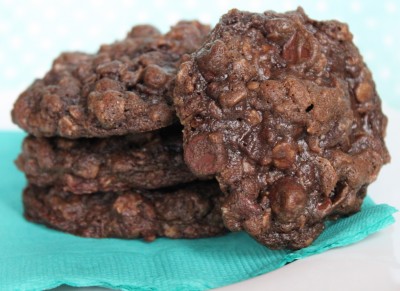 My husband, who is typically not a dessert person, has often talked about these rich chocolate cookies that his brother used to make when they were younger.  My first attempt at making them resulted in an important lesson regarding baking with butter.  Though still soft and tender, the cookies in my first batch spread out while baking and ended up very thin.  After searching around on the Internet I found an intriguing article about butter and how it should be properly handled to make the best cookies.  I have since referenced this article in numerous cookie and baking expeditions and I no longer underestimate the power of butter.  (And I vow to never again soften my butter in the microwave when I'm in a hurry, my first misstep when I initially baked these cookies.)
Subsequent trials with these double chocolate-y cookies have proven succesful.  The oatmeal helps to keep the cookies chewy and as long as you don't overbake them, they will be soft and tender.    

Double Chocolate Oatmeal Cookies
Author:
Itsy Bitsy Foodies
Prep time:
Cook time:
Total time:
Oatmeal helps keep these double chocolate-y cookies soft and tender.
Ingredients
1 cup butter
1 cup brown sugar
½ cup sugar
2 tsp vanilla
2 eggs
1¼ cup flour
½ cup cocoa powder
1 tsp baking soda
2 cups oats
2 cups chocolate chips
Instructions
Cream the butter and the sugars.
Mix in the vanilla and the eggs.
In a separate bowl, combine the dry ingredients.
Add them to the butter mixture.
Finally, stir in the chocolate chips.
Drop the cookie dough by tablespoonful onto a greased baking sheet.
Bake the cookies at 350 degrees for 8 minutes or until they are done.
For soft and chewy cookies, be careful not to overbake them.
The centers of the cookies should still be moist when you remove them from the oven and they will set up as they cool.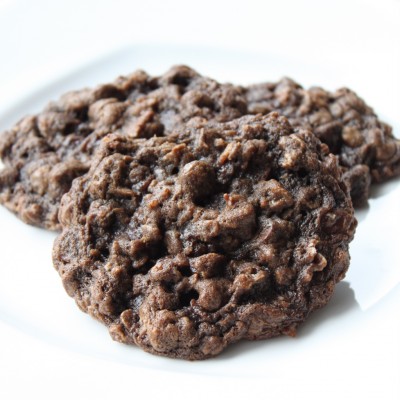 TIP: For a great resource regarding how to bake with butter, check out this New York Times article.
Tags: butter, chocolate chips, cocoa powder, cookies, oatmeal