Print This Recipe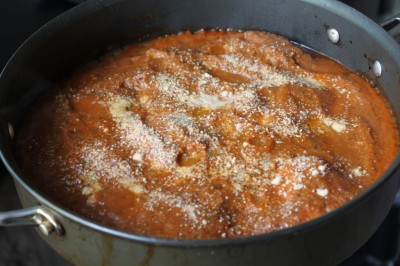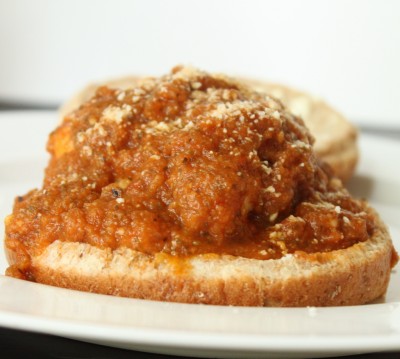 This basic marinara sauce recipe can be used in many ways.  It works great for Chicken Parmigiana and Chicken Parmesan Sandwiches.  Or you can add meatballs, ground chicken, turkey or beef to the sauce for a heartier option.  In my family we like to blend the sauce until it is thick and smooth.  Without the chunks of tomato your family won't even realize that they are eating loads of nutrient-packed tomatoes and other veggies!  The sauce freezes well so you can make a large batch and freeze smaller portions for future dinners. 

Author:
Itsy Bitsy Foodies
Prep time:
Cook time:
Total time:
Blend this marinara sauce until it is smooth and your family won't even notice that they are eating loads of tomatoes and other veggies.
Ingredients
½ of an onion, chopped
½ of a green bell pepper, chopped
3-4 garlic cloves, chopped
1 zucchini, sliced, optional
28-ounce can whole tomatoes, crushed by hand, including the juices
2 Tbsp chopped fresh parsley
2 tsp sugar
2 tsp crushed oregano
1 tsp basil
1 tsp crushed red pepper, optional
Dash of black pepper
Dash of salt, to taste
1 6-ounce can tomato paste
¼ cup water, optional, depending on the desired consistency
Dash of red wine, optional
Instructions
Coat the bottom of a pan with olive oil and sauté the vegetables over medium-high heat for a couple of minutes until the onion and garlic are translucent.
Add the remaining ingredients.
Bring the sauce to a boil.
Cover the pan, reduce the heat & let the sauce simmer for 10-15 minutes, stirring occasionally.
Pour the sauce into a blender or use a hand-held blender to blend the sauce until it is smooth. You can adjust the consistency of the sauce by adding water and tomato paste.
Return the sauce to the pan and let it simmer for an additional 10-15 minutes.
Season the sauce to taste.
Tags: garlic, green bell pepper, marinara sauce, onion, parsley, pasta sauce, tomatoes