Print This Recipe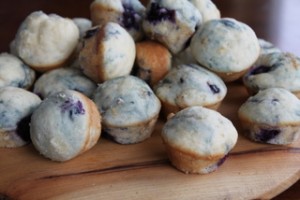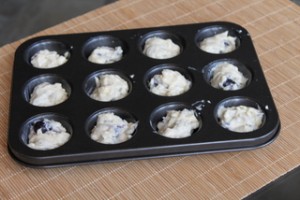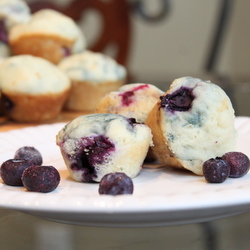 This recipe came from a good family friend and was one of my family's favorites when I was growing up.  When compared to many other muffins, these ones are actually pretty low in butter and sugar.  I like making them in miniature because they are bite-sized and easy for my 1 1/2-year old son to eat.  You can use fresh or frozen berries.

Author:
Itsy Bitsy Foodies
Prep time:
Cook time:
Total time:
You can use fresh or frozen berries to make this healthy breakfast or snack.
Ingredients
2 cups flour
½ cup sugar
½ tsp salt
4 tsp baking powder
1 egg
4 Tbsp butter
¾ cup milk
1 cup blueberries
Instructions
Lightly toss the blueberries (even still frozen) with ¼ cup of flour.
Mix the remaining flour with the salt and the baking powder.
Cream the butter and the sugar.
Add the egg and beat it well.
Add the flour mixture alternately with the milk and mix until it forms a smooth batter.
Gently fold the berries into the batter.
Spoon the batter into lined muffin tins (or tins that have been lightly greased). You can use mini or regular-sized muffin tins.
Bake the mini muffins for 5-7 minutes and the regular-sized muffins for 15-20 minutes, at 350 degrees, until they are starting to turn a light golden and the tops spring back to the touch. A toothpick should come out clean.
Tags: berry muffins, blueberries, blueberry muffins, mini muffins, muffins