Fri, Feb 11, 2011
Breads, Breakfast, Cakes, Cupcakes & Brownies, Desserts, Fun Family Activities, Holidays, Muffins & Quick Breads, Photograzing, Search by Course, Valentine's Day

Print This Recipe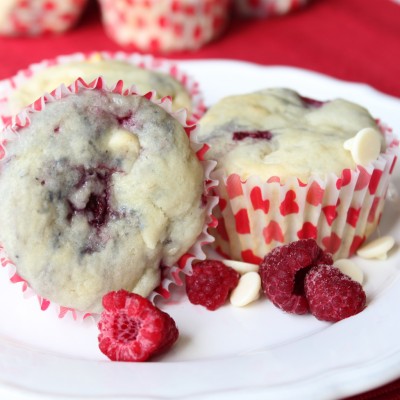 These red and white muffins are perfect for Valentine's Day and a great alternative to all of the chocolate and ultra-sweet treats for which Valentine's Day is known.  I used my blueberry muffin recipe, substituting raspberries and white chocolate for the blueberries.  

White Chocolate & Raspberry Muffins
Author:
Itsy Bitsy Foodies
Prep time:
Cook time:
Total time:
Ingredients
2 cups flour
½ cup sugar
½ tsp salt
4 tsp baking powder
1 egg
4 Tbsp butter
¾ cup milk
1 cup frozen raspberries
½ cup white chocolate chips
Instructions
Lightly toss the frozen raspberries with ¼ cup of flour.
Mix the remaining flour with the salt and the baking powder.
Cream the butter and the sugar.
Add the egg and beat it well.
Add the flour mixture alternately with the milk and mix until it forms a smooth batter.
Gently fold the berries into the batter.
Spoon the batter into lined muffin tins or tins that have been lightly greased. You can use mini or regular-sized muffin tins.
Bake the mini muffins for 5-7 minutes and the regular-sized muffins for 15-20 minutes, at 350 degrees, until they are starting to turn a light golden and the tops spring back to the touch. A toothpick should come out clean.
Tags: cupcakes, muffins, raspberries, Valentine's Day, white chocolate chips