Print This Recipe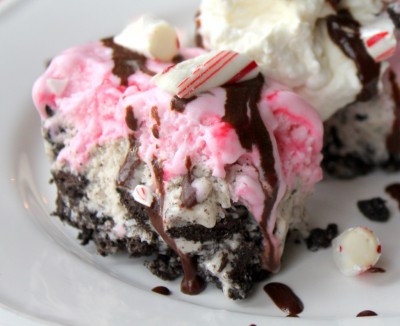 This twist on Mud Pie is great for parties because you can cut the pie up into small, bite-sized squares. Though peppermint ice cream is often associated with the winter holiday season, it is one of my year-round favorites. (It's the perfect color for Valentine's Day and it's also refreshing during the hot summer months.) I omitted Heath toffee bar from the fudge sauce and added crushed peppermint candies to go with the peppermint ice cream. 

Author:
Itsy Bitsy Foodies
Prep time:
Cook time:
Total time:
Peppermint mud pie is a refreshing and festive treat for Christmas, Valentine's Day or any other time of year.
Ingredients
Cookie Crust
22 Oreo cookies, smashed
2 Tbsp butter, melted
Ice Cream Filling
Peppermint ice cream
Cookies and cream ice cream
Chocolate Fudge Sauce
4 squares unsweetened chocolate
⅔ cups cold water
⅓ cup sugar
3 Tbsp butter
1 tsp vanilla
Crushed peppermint candies
Instructions
Cookie Crust
Mix the crumbled Oreo cookies and butter.
Press the mixture into the bottom of an 8×8-inch square pan.
Cover it with plastic wrap and place it in the freezer.
Ice Cream Filling
While preparing the crust, bring the ice cream out of the freezer to allow it to soften.
Spread cookies and cream ice cream onto the cookie crust and then layer peppermint ice cream on top. I usually use about a half of a quart of each type of ice cream so that the ice cream reaches the top of the pan.
Return the pan to the freezer to let the ice cream harden.
Then cover it with plastic wrap until you are ready to serve the pie.
Chocolate Fudge Sauce
Melt the chocolate in the water over low heat, stirring constantly.
Mix in the sugar, stirring it for two minutes to thicken.
Remove the pan from the heat and add the butter and vanilla.
Cut the mud pie into squares.
Top the squares with homemade whipped cream, chocolate fudge sauce and crushed peppermints or candy canes.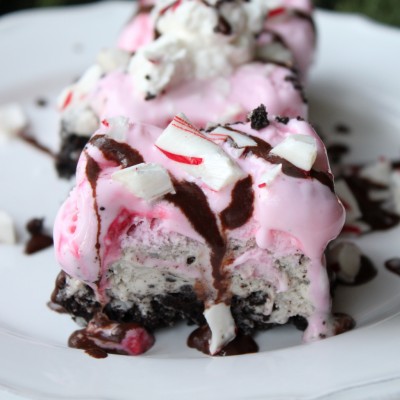 TIP: I like to use Dreyer's Slow-Churned Ice Cream because it's a lower-fat option that is still rich and creamy.
Tags: chocolate sauce, cookies and cream ice cream, ice cream cake, ice cream pie, oreo cookies, peppermint candy, peppermint ice cream, pie, whipped cream