Sun, Jul 18, 2010
541Live, Around the World, Desserts, DessertStalking, Foodbuzz Top 9, Foodgawker, Fun Family Activities, Holidays, Ice Cream & Frozen Treats, Itsy Bitsy Foodies Sightings, National Ice Cream Day, North America, Search by Course, TasteSpotting, United States

Print This Recipe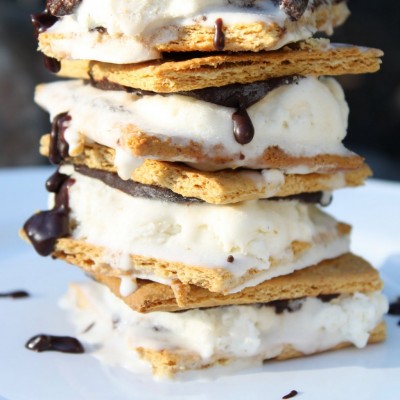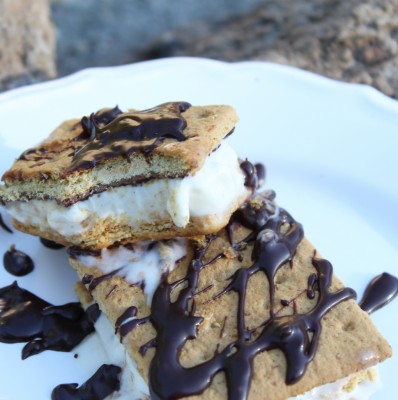 In 1984, President Ronald Reagan declared July as the National Ice Cream Month and the third Sunday of July as National Ice Cream Day.  In honor of this special day (which happens to be today), I decided to make an ice cream sandwich.  And I couldn't think of a better flavor than summer's classic campfire treat: s'mores.
Fortunately for the s'mores theme, graham crackers make a great cookie for ice cream sandwiches because they become softer when they freeze.  Homemade French vanilla ice cream is a refreshing substitute for the marshmallows.  And as for the chocolate, just about anything will do (Nutella, melted Hershey's chocolate or chocolate sauce).
I used leftover Heath toffee chocolate sauce from the chocolate-covered banana splits that we had the other day.  The chocolate sauce hardened when it froze, becoming chewy and toffee-like, so biting into the ice cream sandwich was similar to biting into a traditional campfire-roasted s'more.  And the toffee gave the sandwich a more complex flavor that actually reminded me of toasted marshmallows.

S'mores Ice Cream Sandwiches
Author:
Itsy Bitsy Foodies
Prep time:
Cook time:
Total time:
S'mores ice cream sandwiches are a quick, effortless and refreshing twist on summer's classic campfire treat.
Ingredients
Plain graham crackers
Homemade French vanilla ice cream or Dreyer's Slow-Churned Vanilla Bean Ice Cream
Chocolate Toffee Sauce
1 cup semi-sweet chocolate chips
¼ tsp vanilla
2 Tbsp milk
1 Tbsp sugar
¼ cup Heath toffee bits
Instructions
Chocolate Toffee Sauce
Heat the chocolate chips, vanilla, milk and sugar over low heat in a small saucepan, stirring constantly until the chocolate dissolves and a smooth chocolate sauce forms.
Remove the sauce from the heat and stir in the toffee bits.
Ice Cream Sandwiches
Break the graham crackers in half and spread ½-1 Tbsp chocolate sauce on each half.
Spread roughly ¼ cup vanilla ice cream on top of the chocolate on one half of the cracker.
Press the other half on top to make the sandwich.
Drizzle the tops of the sandwiches with chocolate sauce if desired.
Repeat the process.
Serve the sandwiches immediately or freeze them in a sealed container.
TIP: If you want to stack the sandwiches in the container, place a sheet of waxed paper in between the sandwiches to prevent them from sticking together.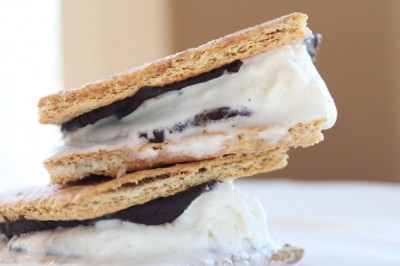 Tags: chocolate sauce, graham crackers, s'mores, vanilla ice cream