Print This Recipe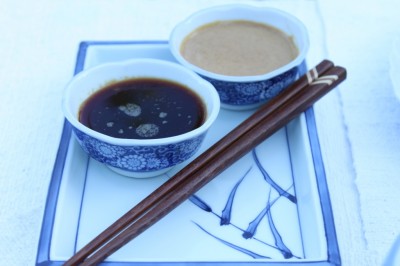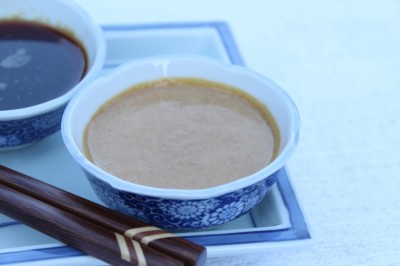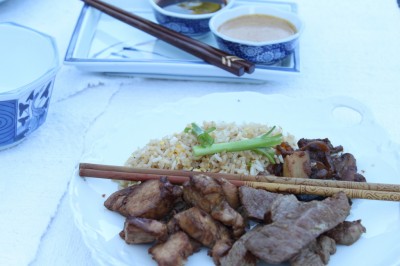 This hot mustard sauce goes well with teppanyaki-style teriyaki chicken and steak, teppanyaki-style vegetables and teppanyaki-style fried rice.  The whipped cream makes the sauce light and creamy, and helps cut the saltiness of the soy sauce.  When paired with the ginger dipping sauce, you can easily create a teppanyaki-style meal at home.
Ingredients
3 Tbsp dry mustard
2 Tbsp hot water
1 Tbsp toasted sesame seeds
1/4-1/2 cup low-sodium soy sauce, to taste
1 garlic clove, minced
2-3 spoonfuls whipped cream, to taste
If you don't have toasted sesame seeds, spread 1 Tbsp sesame seeds on a baking sheet and bake them at 400 degrees until the seeds start to turn a light golden brown.  It won't take long for them to brown, so watch them carefully so that they don't burn.
Mix the mustard powder with the hot water until a smooth mustard forms.  Blend the mustard, soy sauce, toasted sesame seeds and minced garlic until it is smooth. 
Beat 1/4 cup heavy whipping cream until stiff peaks form.  Stir 2-3 spoonfuls of whipped cream into the mustard sauce.
Pour the mustard sauce into small individual dipping bowls.
Recipe adapted from: Famous Tasty Recipes
Tags: dry mustard, garlic, sesame seeds, soy sauce, whipping cream