Print This Recipe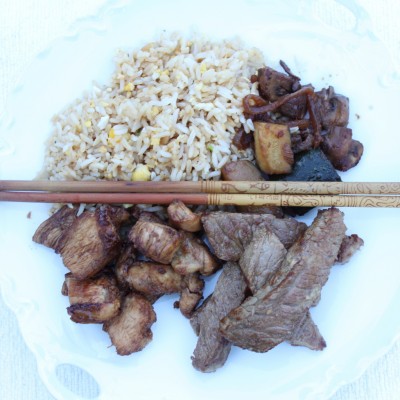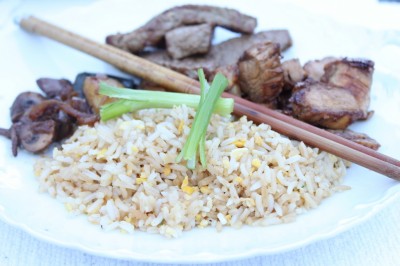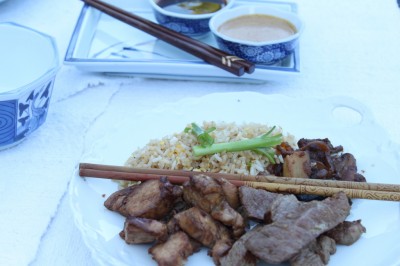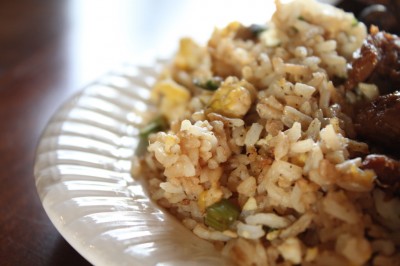 This fried rice is just a simpler version of my Pork Fried Rice (Cha Han).  I've added rough quantities to the recipe but I usually make it to taste.  Each batch ends up being a little bit different and you can start to determine how you like it. 
Start your teppanyaki-style feast with teppanyaki-style veggies, followed by this rice and the teppanyaki-style teriyaki chicken and steak.  Serve the meal with hot mustard and ginger dipping sauces.   
Ingredients
2 cups long-grain rice 
2 eggs
Roughly 1 Tbsp chopped green onion
1/4 -1/2 tsp black pepper, to taste
1-2 Tbsp low-sodium soy sauce, to taste 
2 garlic cloves, chopped
1-2 tsp butter
Cook the rice according to the instructions on the package.
Sauté the garlic over medium heat in a pan lightly coated with butter.  Scramble the eggs over medium heat in a pan lightly coated with butter.
In a large pan over low heat, mix the cooked rice, sautéed garlic, scrambled eggs and chopped green onion.  Sprinkle the rice with black pepper.  Mix in a splash of soy sauce until the rice is lightly colored.  Start with a small amount of soy sauce and continue adding it gradually, to taste.  Be careful not to add too much soy sauce because you don't want the rice to be soupy.  The soy sauce should help bring out the other flavors, not overpower them.
Tags: black pepper, garlic, green onions, long grain rice, soy sauce