Sat, Jul 16, 2011
Desserts, DessertStalking, Dishfolio, Foodgawker, Fun Family Activities, Holidays, Ice Cream & Frozen Treats, Itsy Bitsy Foodies Sightings, National Ice Cream Day, Photograzing, Search by Course, TasteSpotting

Print This Recipe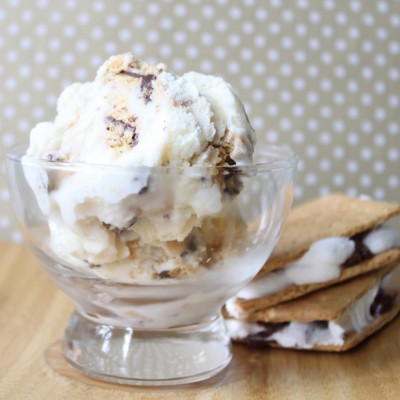 S'mores and ice cream, two of my favorite things.  The s'mores ice cream sandwiches that I made last summer for National Ice Cream Day were such a hit that I decided to make s'mores ice cream this year to celebrate the yummy summer holiday.  I used homemade French vanilla ice cream as the base and stirred in chopped up s'mores.  The ratio of s'mores pieces to ice cream is not a science so you can stir in as many as you would like.  And if you are short on time you can stir s'mores chunks into store-bought ice cream for a quick treat.

Author:
Itsy Bitsy Foodies
Prep time:
Cook time:
Total time:
S'mores ice cream is a refreshing twist on summer's classic campfire treat.
Ingredients
3 eggs
2 cups milk (or half and half)
1 cup sugar
2 cups heavy cream
2 tsp vanilla extract
8 graham crackers
8 large marshmallows (or the equivalent in mini marshmallows)
2 Hershey's chocolate bars (or the equivalent in chocolate chips)
Instructions
In a large saucepan, beat the eggs, milk and sugar until well blended.
Cook the egg mixture over low heat, stirring constantly, until thickened.
It should smoothly coat the back of a wooden spoon. It will take about 10 minutes.
Let the mixture cool.
Add the heavy cream and the vanilla.
Stir until blended and refrigerate the mixture until it is completely chilled, for several hours or up to overnight.
Following the instructions of your ice cream maker, pour the chilled mixture into your machine and stir it until the ice cream begins to form.
While the ice cream is being stirred, make the s'mores.
Place the graham crackers on a plate and top them with chocolate and marshmallows.
Microwave them for 10-30 seconds until the marshmallows balloon up and the chocolate begins to melt.
Press two graham crackers together and let the s'mores cool for a couple of minutes.
Chop the s'mores into small pieces.
When the ice cream reaches a soft-serve consistency it is a good point to stir in the s'mores pieces.
If you want firmer ice cream, alternate stirring it in the ice cream maker and freezing it for ten minute increments to speed up the process while keeping it creamy.
You can eventually transfer it to a sealed container and let it freeze for several hours until it hardens. *But you don't want to do this when it is too runny or it will freeze into an icy solid rather than creamy ice cream.
{As an experiment, I made a small batch of s'mores ice cream using the components of s'mores – chocolate chips, mini marshmallows and honey Teddy Grahams.  While it was fun to see the little teddy bears throughout the ice cream and you can't go wrong with these ingredients, the consensus was that the s'mores ice cream made with actual chunks of s'mores was better.}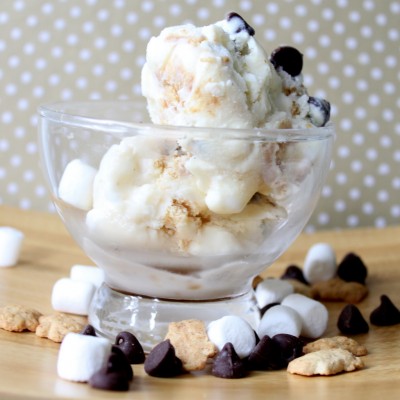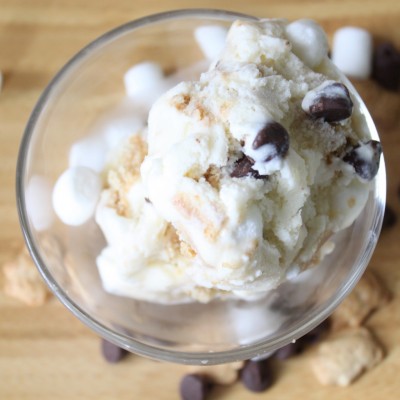 Tags: chocolate, graham crackers, ice cream, s'mores, vanilla ice cream