Sun, Feb 13, 2011
Appetizers, Foodgawker, Fun Family Activities, Holidays, Itsy Bitsy Foodies Sightings, Quick n' Easy, Search by Course, Side Dishes, Valentine's Day

Print This Recipe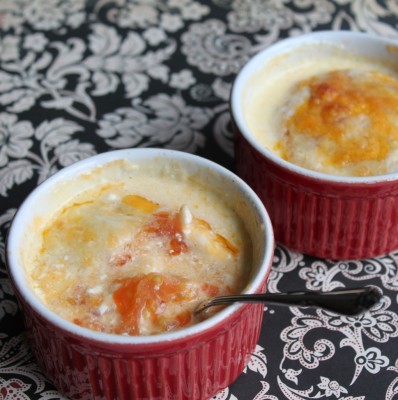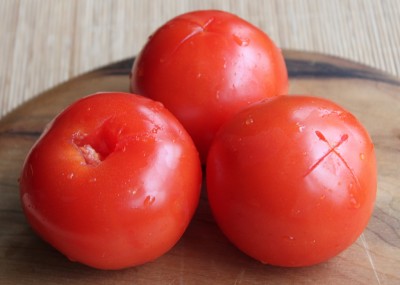 Love Apples, otherwise known as tomatoes, were once believed to have aphrodisiac powers and were called pommes d'amour in French (literally, apples of love).  It is a fitting name for a rich and creamy Valentine's Day side dish.  And I was pleased to discover that this Gourmet rendition of tomatoes was a hit with my 2-year old Valentine.

Love Apples
Author:
Itsy Bitsy Foodies
Prep time:
Cook time:
Total time:
These rich and creamy baked tomatoes are the perfect side dish for Valentine's Day or any other special day.
Ingredients
Tomatoes, roughly 1 medium-sized tomato per individual serving
Sherry, 1 tsp per serving
Cream, 2 Tbsp per serving
Grated cheddar cheese (or another variety of your choice), 3 Tbsp per serving
Instructions
Blanch the tomatoes to easily remove the skin.
Bring a pot of water to boil.
Cut out the stem of the tomatoes and cut an X on the bottom end of each tomato.
Place the tomatoes in the boiling water for one minute, or until the skins begin peeling away. (Be careful not to boil them for too long so that the tomatoes don't cook and become mushy.)
Remove the tomatoes in a strainer and rinse them with cold water.
Once they are cool enough to handle, peel away the skin.
Thinly slice the tomatoes in rounds.
Stack the tomato slices in the individual, oven-safe ramekins.
Pour 1 tsp Sherry in each dish.
Cover each dish with foil and bake the tomatoes for 30 minutes at 350 degrees.
Remove the foil and pour 2 Tbsp cream in each dish.
Then top each stack of tomatoes with 3 Tbsp grated cheese.
Bake the tomatoes uncovered for 15 minutes, until they are bubbly and the cheese starts to brown.
Serve them immediately.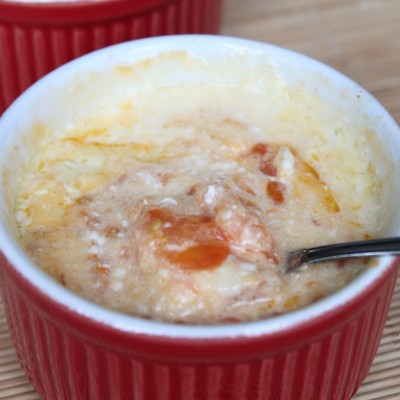 Recipe source: Gourmet magazine, March 1975
Tags: baked tomatoes, cheese, cheesy tomatoes, cream, Sherry, tomato gratin, tomatoes