Print This Recipe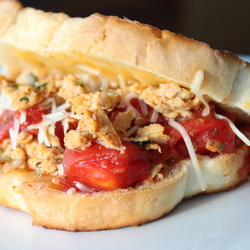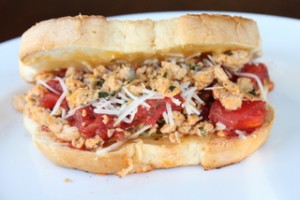 This sandwich is easy to make and it's a great way to use leftover pizza ingredients.  I love the fact that my family devours tomatoes (in the sauce) and spinach (in the homemade chicken sausage) without thinking twice.
Use the cheese of your choice.  (I used a mix of cheddar and Jack because that's what we had.)  For the tomato sauce, I basically made my homemade pizza sauce with the addition of garlic powder and crushed red pepper for a kick.
Ingredients
Sourdough sandwich bread
Mozzarella or cheddar cheese, grated
Parmesan cheese
Tomato sauce:
1 pound can whole tomatoes
1 Tbsp oregano, crushed
1/2 tsp salt
1 tsp sugar
1 tsp garlic powder, optional
1 tsp crushed red pepper, optional
Cut the stem end off of the tomatoes and discard the ends.  Cut the tomatoes into small chunks and mix them with the rest of the ingredients to form a chunky sauce.  Let it rest while you prepare the sandwiches.
Working with two slices of bread per sandwich, sprinkle the bread with grated mozzarella (or other) cheese.  Place the bread on a baking pan and briefly broil it in the oven to melt the cheese.  Once the cheese begins to melt, remove the pan from the oven.
Spread the tomato sauce over the cheese.  Cover it with pre-cooked chicken sausage and grated Parmesan cheese.  Place the second piece of bread on top, cheese side facing down.  Return the sandwich to the oven and bake it at 350 degrees until the bread is golden, the cheeses are melted and the sandwich is hot.
TIP: Use a pizza pan with holes on the bottom so that the sandwich doesn't get soggy while it is baking.
Tags: bread, cheese, chicken sausage, tomatoes