Print This Recipe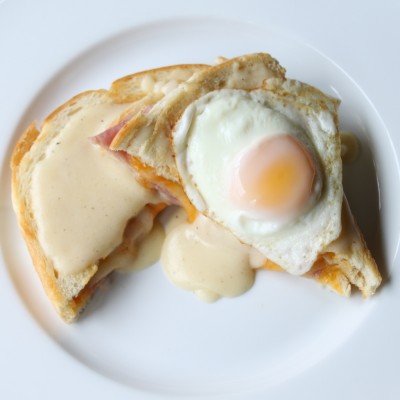 If you thought the Crôque-Monsieur was as deluxe as a grilled ham and cheese sandwich could get, think again!  Put a fried egg on top and you have a Crôque-Madame.
Eggs are loaded with nutrients and are a great source of protein.  My son doesn't like to eat eggs very much.  Our "Mrs. Crunchy" sandwich was a unique way to get him to try them.  Eggs and Mornay sauce…what's not to like?!
Ingredients
2 slices of sourdough or french bread
2 slices of ham (or diced ham)
Dijon or stone-ground mustard, optional
Grated Emmental, Gruyère, or other cheeses
1 egg
Place the slices of bread on a cooking sheet and lightly toast both sides in the oven.  It should only take a couple of minutes when broiling so be sure to watch the bread closely so that it doesn't burn. 
If desired, spread mustard on one slice of bread.  Cover with the ham slices and grated cheese.  Top with the other slice of bread.
Lightly coat a pan with butter.  Grill both sides of the sandwich until golden brown.  The cheese should begin to melt.
Lightly coat a pan with butter and fry an egg over medium heat.  Once the egg white begins to brown on the bottom, reduce the heat and cover with a lid.  This will allow the yolk to cook without burning the egg white.  Cook the egg until the yolk reaches your desired doneness.  When I am cooking for my son, I am sure to cook the yolk all the way through.
Pour Mornay sauce over the top of the sandwich and top it with an egg or first bake it at 350 degrees until the sauce begins to bubble and turns light golden brown.  Then top it with the egg and serve it immediately. 
Bon appétit!
Tags: bread, cheese, egg, grilled cheese, ham, mornay sauce