Sat, Feb 27, 2010
Appetizers, Around the World, Disguising Healthy Foods, Europe, Italy, Itsy Bitsy Foodies Sightings, Quick n' Easy, Search by Course, Side Dishes, Snacks, TasteSpotting

Print This Recipe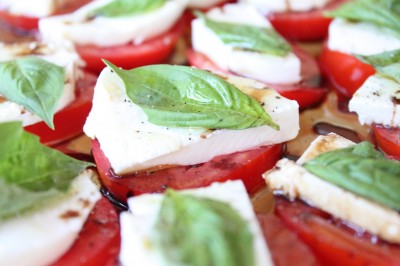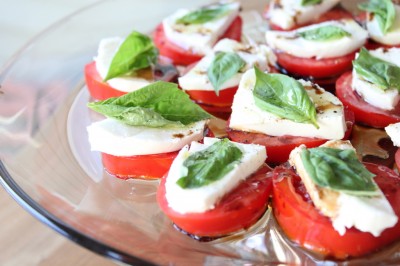 This colorful salad of tomatoes, fresh mozzarella and basil has become one of the iconic foods of Italian cuisine and is a staple in Italy and in Italian restaurants around the world.  It even resembles the Italian flag with its bright red, green and white.  It is simple to make and the perfect light starter to many meals.
During the summer, we love to use fresh tomatoes and basil from our garden.  Each bite offers a pack of flavor, texture and nutrients! 
Ingredients
Tomatoes (Roma or any other variety)
Fresh basil leaves
Fresh mozzarella
Olive oil
Balsamic vinegar
Sea salt, to taste
Black pepper, to taste
Cut the tomatoes and the fresh mozzarella cheese into 1/4-inch slices.  Arrange the tomato slices on a platter and place the fresh mozzarella slices on top of them.  Top with basil leaves.  Drizzle olive oil and balsamic vinegar over the tomatoes.  Season with a dash of sea salt and black pepper, to taste.
Tags: balsamic vinegar, basil, fresh mozzarella, olive oil, tomatoes