Print This Recipe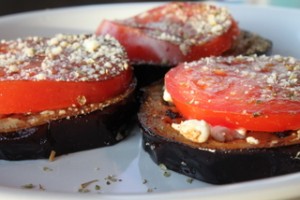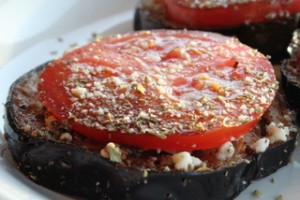 These eggplant tomato stacks make a refreshing appetizer or side dish and are perfect for a summer meal.  The oregano and the tomato combine to make that nostalgic pizza sauce flavor while the feta cheese and balsamic vinegar provide a nice tang to complement the eggplant.  The stacks are easy to make and if you are lucky enough to have garden-fresh eggplants and tomatoes, they taste even better.
Ingredients
Eggplant, sliced
Salt, to taste
Black pepper, to taste
Tomatoes, sliced
Feta cheese
Parmesan cheese
Oregano
Balsamic Vinegar
Lightly coat a pan with olive oil and heat it over medium heat.  Place the eggplant slices in the pan and cook them for several minutes until they begin to soften.  Sprinkle them with salt and pepper.  Once they are softening and browned, flip them to continue cooking on the other side.
Arrange the eggplant slices on a plate.  Sprinkle them with feta cheese.  Place a tomato slice on each eggplant and then top the stacks with oregano and Parmesan cheese.  Drizzle with balsamic vinegar.
Tags: balsamic vinegar, eggplant, feta cheese, oregano, parmesan cheese, tomatoes