Print This Recipe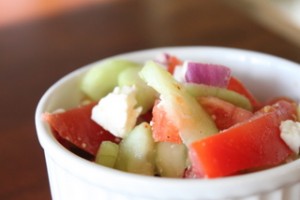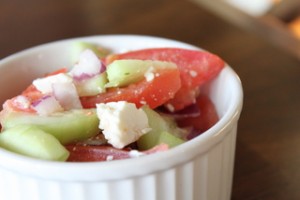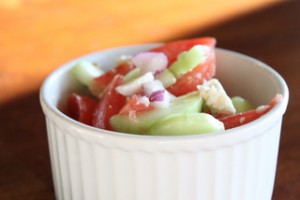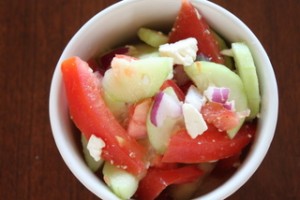 We recently had dinner at our friend's house and they made this salad.  We liked it so much that we tried to replicate it as soon as we got home.  It is light and refreshing.  The secret ingredient is the pepperoncini juice that adds a flavorful saltiness to the salad and acts as the base of the salad dressing.
Consisting of pepperoncinis, feta cheese, tomatoes and cucumber, this salad is essentially a version of a Greek salad.  If you are a fan of olives, you could also mix in some kalamata olives.  This salad is easy to make and can be made in advance because the flavors intensify as it chills in the refrigerator.
Ingredients
2 large tomatoes, sliced
1 medium cucumber, peeled and sliced
1 green onion stalk, minced
1/4 cup crumbled feta cheese
1/4 tsp salt
Dash of black pepper
1 tsp pepperoncini juice
1/8 red onion, chopped
Toss all of the ingredients together.  Serve immediately or cover the salad in plastic wrap and let it chill in the refrigerator.
Tags: cucumbers, feta, green onion, red onion, tomatoes