Print This Recipe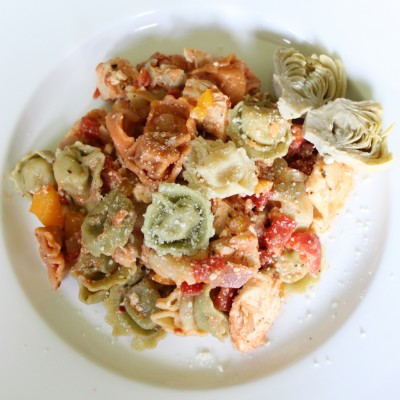 This chicken and artichoke tortellini salad is quick to make and yummy served warm or chilled.  You can mix up the ingredients based on the veggies and spices that you have on hand, even making it without chicken if you'd like.  We usually make it for a dinner and then have chilled leftovers as a pasta salad for lunch the following day.  It's an easy addition to your summer pinic, potluck and BBQ menus.

Author:
Itsy Bitsy Foodies
Prep time:
Cook time:
Total time:
This is an easy and satisfying pasta salad or main course. It can be served warm or chilled and is great for summer BBQ's and picnics.
Ingredients
½ onion, chopped
½ red bell pepper, chopped
½ orange bell pepper, chopped
½ yellow bell pepper, chopped
2-3 garlic cloves, minced
2 chicken breasts, cooked and chopped
1 15-ounce can of chopped tomatoes with the sauce
4-6 cups tortellini pasta, cooked
Dash of black pepper
½ tsp oregano
½ tsp basil
¼ tsp crushed red pepper flakes
Couple squirts of lemon juice
1 cup chopped artichoke hearts
½ cup parmesan cheese
½ cup feta cheese
Instructions
Cook the tortellini according to the directions on the package.
Cook the chicken breasts in a pan lightly-coated with olive oil over medium-high heat.
Remove the chicken from the heat and chop it into bite-sized pieces.
Sauté the garlic, onion and bell peppers over medium heat until they are tender.
Add the cooked chicken and the can of chopped tomatoes with the sauce.
Season the sauce to taste with black pepper, oregano, basil and lemon juice.
Stir in the chopped artichoke hearts, Parmesan cheese and feta cheese and let the sauce simmer for 10-15 minutes or until the chicken is fully cooked.
Finally, stir in the cooked tortellini and serve the pasta warm or chilled.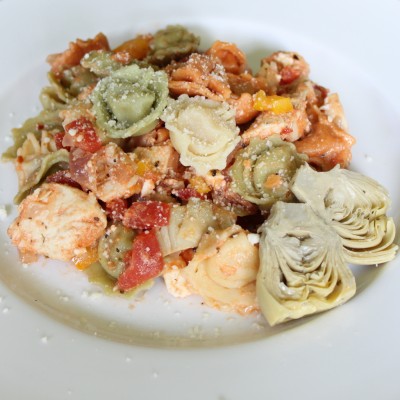 Tags: artichoke hearts, bell peppers, chicken, feta, pasta, pasta salad, tomatoes, tortellini