Print This Recipe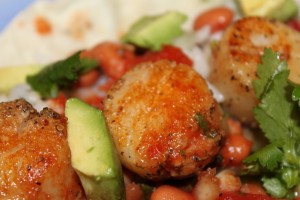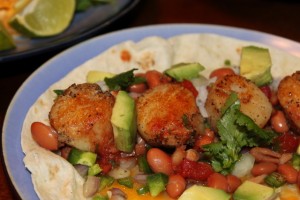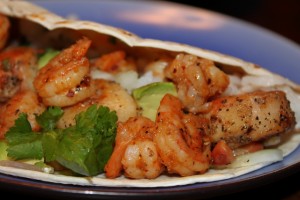 Ingredients
1/2 lb shrimp, rinsed, shelled and deveined
1/2 lb scallops, rinsed
Black pepper, to taste
Salt, to taste
1/4 cup Salsa Verde
Grated cheese, such as colby-jack (roughly 2 Tbsp for each tortilla)
Avocado slices (roughly 1/4 of an avocado for each tortilla)
Pinto beans (roughly 1/4 cup for each tortilla)
Cilantro, chopped (roughly 1/2 Tbsp for each tortilla)
1 jalapeño pepper, chopped, to taste
1/2 onion, chopped, to taste
2 Tbsp canola oil
2 cups long grain rice
1/2 lime
Cook two cups of long grain rice in a rice cooker (or steam on the stovetop).  Add the juice of half of a lime and 1/4 cup chopped cilantro to the rice.
Coat a pan with vegetable oil.  Sauté the shrimp and scallops at medium heat.  Season with black pepper, salt and salsa verde (or another type of salsa). 
To prepare the tacos, heat a tortilla in a pan over medium heat.  Sprinkle some cheese on the tortilla and heat until it melts.  Remove the tortilla from the heat.  Sprinkle some pinto beans, chopped jalapeños, chopped onion and chopped cilantro on the tortilla.  Top with lime-cilantro rice, shrimp, scallops and chunks of avocado.
Click here to view a guide for selecting seafood.
Tags: avocado, cheese, cilantro, jalapeno peppers, pinto beans, rice, scallops, shrimp