Print This Recipe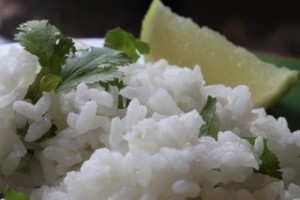 This lime-cilantro rice is easy to make and is the perfect combo with many meals, even outside Mexican-inspired meals.  I like serving it with our Teriyaki Flank Steak.
Ingredients
2 cups of long-grain rice
The juice of 1 lime
1/4 cup chopped cilantro
Cook the rice in a rice cooker or on the stovetop according to the directions on the box.  In addition to the water, add the juice of one lime.  I like to leave at least one half of the squeezed lime in the rice so that it steams and adds flavor.  Once the rice is cooked stir in the chopped cilantro.
Tags: cilantro, lime, long grain rice