Print This Recipe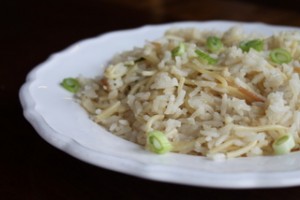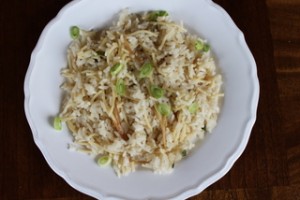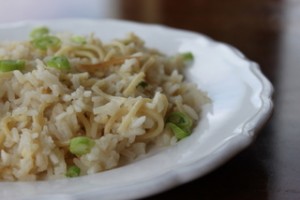 This rice pilaf is easy to make and its simple flavors complement many meats and main courses.  I recently served it with salmon for a change from steamed white rice.
Ingredients
1 Tbsp butter
1/2 cup vermicelli pieces (broken into 1-inch pieces)
1 cup long-grain rice
2 1/2 cups chicken broth
1/4 cup chopped green onion, to taste
Melt the butter in a large pan over medium-high heat.  Brown the vermicelli pieces and rice in the butter.  Add the chicken broth and the green onion.  Reduce the heat to low, cover the pan and let the rice simmer for 30-40 minutes until fully cooked.  Add more broth or water as needed.
Tags: chicken broth, green onions, long grain rice, vermicelli